For Stock Market, Powell Seen Holding Yellen Line as Fed Chief
By and
Survey ranks Powell third best for stocks after Yellen, Cohn

Trump is said to nominate Jerome Powell to serve as Fed Chair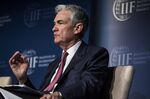 Investors enjoying the fruits of a decade-long bull market in equities expect to find an ally in Jerome Powell, who President Donald Trump plans to nominate to lead the Federal Reserve according to three people familiar with the decision.
Barring the reappointment of Yellen, Powell was viewed as one of the best options for bulls, an extension of the dovish policies that helped the S&P 500 rise 45 percent during her tenure. The central bank's only Republican, Powell has been an opponent of regulation who has refrained from dissenting with Yellen's policy of boosting the economy by keeping interest rate hikes gradual.

Equities have been on an upswing since Bloomberg News reported Trump was leaning toward Powell on Friday, with the biggest exchange-traded fund rising three of four days. S&P 500 Index futures were little changed late Wednesday after the Wall Street Journal earlier reported that Trump intends to nominate the 64-year-old Fed governor on Thursday. The dollar and Treasuries showed little reaction. Powell declined to comment when approached by a reporter outside his Washington-area home.
"Having Yellen as the Fed chair would be ideal, but if the markets like Yellen that much they will probably like Powell," said Mark Kepner, managing director and equity trader at Themis Trading LLC in Chatham, New Jersey. "The markets are quite familiar with Yellen's view on the path of rate hikes and Powell's view seems rather similar, at least based on what he's said."

Few constituencies have more at risk than stock investors as the Fed's baton is passed. Under Yellen and predecessor Ben S. Bernanke, shares recovered from the worst financial crisis in seven decades to post one of the strongest advances ever recorded. Almost $18 trillion has been added to equity prices as the S&P 500 almost quadrupled.
No transition is ever as easy as it looks, says John Stoltzfus, chief investment strategist at Oppenheimer. Investors would be wise to temper expectations even if Powell is nominated and then approved by the Senate.
"I've been in this business for more than 30 years and I've seen the market responding to quite a number of new Fed chairs. If Powell gets the job, there will be a period after his nomination and into his serving where there will be a fierce discovery of what his style is," Stoltzfus said. "This can add to the uncertainty in the markets."
The selection is one of the most important facing Trump, who claims credit for both the stock rally and an economy that's reduced unemployment to the lowest level in 16 years. The Fed is tasked with safeguarding U.S. growth and stable prices and overseeing financial stability.
 
Before joining the Fed, Powell spent eight years at private equity firm Carlyle Group. He also served as a senior official at the U.S. Treasury under President George H. W. Bush.
Answering questions after an Oct. 12 speech in Washington, Powell said synchronized global growth was making it possible for other central banks to broach the idea of reducing stimulus. The Fed held rates steady after their two-day policy meeting Wednesday and signaled a hike remains probable in December.
 
"It's likely that the process of normalization will proceed without significant disruption," Powell said last month. While market reactions have been "benign" so far, risks remain, he said, noting that the corporate debt situation in emerging markets "has been worsening, particularly in China, and market reactions to even small surprises can be unpredictable" and large.
 
Markets "can turn on a dime" and "this concern may be especially relevant at present, given the low level of volatility and elevated asset prices in global markets, which may increase the likelihood and severity of an adjustment," he said.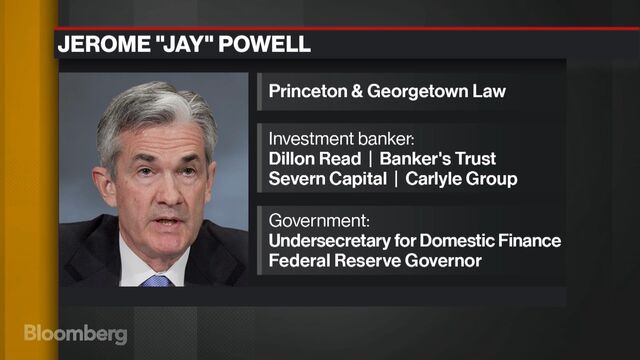 Difference
In a survey of 144 investors conducted by Evercore ISI on Oct. 19, Powell, who had the highest odds of being nominated, was seen as the third best candidate for stocks behind Yellen and Trump economic adviser Gary Cohn. Powell is rated "neutral" on the hawk-to-dove scale by Bloomberg Intelligence's Fed Spectrometer, while Yellen is graded as dovish. 
At the same time, Powell differs from Yellen in the sense that he is less opposed to regulation.
"There is certainly a role for regulation, but regulation should always take into account the impact that it has on markets -- a balance that must be constantly weighed," Powell said in an Oct. 5 speech to Treasury officials. "More regulation is not the best answer to every problem."
That's a nuance the markets and bank stocks in particular will like, said Michael Purves, Weeden & Co.'s chief global strategist. All in all, investors may be able to expect more of the same though. 
"It would be basically a continuation," Purves said, "almost like looking at Hillary replacing Obama as president."
— With assistance by Rich Miller
Before it's here, it's on the Bloomberg Terminal.
LEARN MORE