October Was Apparently Pickup Truck Month in the U.S.
By , , and
Demand jumps for F-Series, GM's Chevy Silverado and GMC Sierra

Consumers keep replacing hurricane-damaged pickups in Texas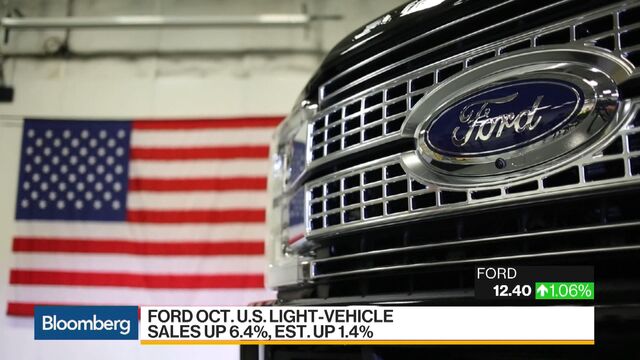 Ford Motor Co.'s F-Series led a gangbusters month for pickups, pacing a surprise uptick in total U.S. auto industry sales.
Ford F-Series deliveries surged 16 percent for their best October since 2004, and the automaker's total U.S. sales beat analysts' estimates. Demand also jumped for GM's Chevrolet Silverado and GMC Sierra, Fiat Chrysler Automobiles NV's Ram pickup and Nissan Motor Co.'s Titan full-size trucks.
The strong showing by pickups is a positive indicator both for carmakers' profits and the U.S. economy. Companies added more workers than forecast to U.S. payrolls last month as employment in the construction industry -- a sector closely tied to truck sales -- climbed to the highest in more than a decade. Automakers also are boosting discounts and benefiting from consumers in Texas continuing to replace vehicles damaged by Hurricane Harvey.
"We did see continued hurricane replacement at the beginning of the month," Michelle Krebs, an analyst at car-shopping website Autotrader, said by phone. "The economic factors are also in trucks' favor. People are back to work and construction activity is up, which is good for truck sales."
Read more: Ford's big pickup poised to reap haul that tops Facebook's sales

Fiat Chrysler shares rose 1.3 percent to close at $17.58 in New York trading. Ford's stock advanced 0.7 percent and GM's gained 0.3 percent.
Automakers are aggressively trying to expand one of the most profitable segments within a U.S. market that's headed for its first annual decline since 2009. Industrywide deliveries dropped in each of the first eight months of this year.
'Trench Warfare'
"There will be some level of trench warfare no matter what," Mark LaNeve, Ford's U.S. sales chief, said of the truck segment on a conference call with analysts. "The market has been really competitive."
Even though BMW AG delayed the release of its results due to a computer problem, Autodata Corp. estimated that the annualized sales rate in October, adjusted for seasonal trends, totaled 18.09 million. That topped the highest estimate in a Bloomberg News survey that averaged a 17.6 million annualized pace. It was the second-best reading of 2017, and even topped the year-earlier rate.
"We are heading into the fourth quarter with good momentum, thanks to a strong U.S. economy and very strong pickup and crossover sales," Kurt McNeil, GM's vice president of U.S. sales, said in a statement. "Small business optimism has also stayed very high since last fall, and that bodes well for pickup and van sales."
Nissan Motor Co. posted a surprise gain in total U.S. sales last month, as deliveries for its Titan surged 29 percent. Toyota Motor Corp. reported a smaller total sales increase than analysts were projecting, though deliveries of the full-size Tundra model rose 5.1 percent. Hyundai Motor Co. and Kia Motors Corp., neither of which have a pickup model, saw their combined sales fall 13 percent, more than the 10 percent decline analysts had been expecting.
Some of the rise in truck demand probably was tied to heavy incentive spending to help move outgoing 2017 models off dealer lots, said Jeff Schuster, an LMC Automotive analyst. The researcher said incentive spending during the first 17 selling days of the month rose from last year's record October to about $3,901 per vehicle.
Clear-Out Sales
"It's a huge month for pickups, but they are clearing out the 2017 models," Schuster said by phone. "Incentives probably were higher. I don't think this is the economy pulling autos up."
Honda Motor Co. bucked analysts' projections for a U.S. sales decline, posting an increase of 0.9 percent. The Japanese automaker doesn't have a full-size pickup in its lineup and saw rare gains within the industry from its passenger-car models. Deliveries of the compact Civic model surged 15 percent.
Volkswagen AG's combined sales for its VW and Audi brands jumped 11 percent, as the new Atlas sport utility vehicle paces the German automaker's recovery from its diesel cheating scandal.
— With assistance by John Lippert
Before it's here, it's on the Bloomberg Terminal.
LEARN MORE