Facebook Says It Hasn't Found Overlap Between Russia Ads, Trump
By and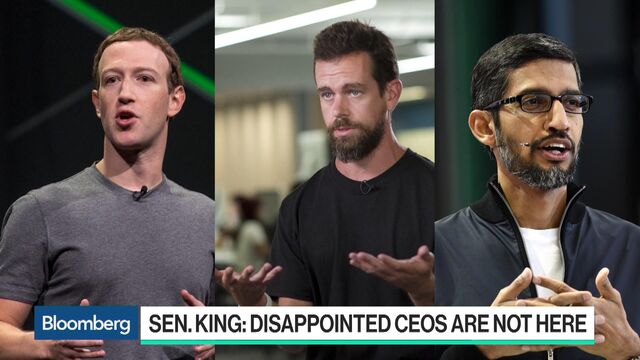 House Intelligence Committee member Adam Schiff homed in on a key question Wednesday as lawmakers lambasted Facebook Inc., Twitter Inc. and Google for their sluggish response to Russian interference in the U.S. election -- was there any overlap between material posted by Russian "troll farms" and advertising by Donald Trump's campaign?
Congressional committees and Special Counsel Robert Mueller are investigating whether anyone around Trump colluded in Russia's meddling in last year's campaign. Schiff, a California Democrat, wanted to know at the Intelligence panel's hearing if the social-media networks' data analysis showed signs that material was targeted to similar groups.
No, said Facebook General Counsel Colin Stretch. "We have not seen overlap in the targeting -- that was relatively rudimentary -- used in the advertising that was disclosed, and any other advertiser on the site, including the Trump campaign."
Twitter said it has an answer, but didn't provide it at the public hearing. "As to the IRA and Russian-based troll farm, we do have that information and can share it with you," said Sean Edgett, Twitter's acting general counsel. The IRA is the Internet Research Agency, a pro-Kremlin Russian group.
California Democrat Jackie Speier asked if the companies have any information on the Trump campaign sharing Russian content, or Russians sharing Trump campaign content.
"We provided all relevant information to the committee," said Facebook's Stretch.
"Same for Twitter," said Twitter's Edgett.
Before it's here, it's on the Bloomberg Terminal.
LEARN MORE