Citadel's Griffin Gives $125 Million to University of Chicago
By
Gift is the second-largest in the university's history

Chicago's economics department will be renamed for Griffin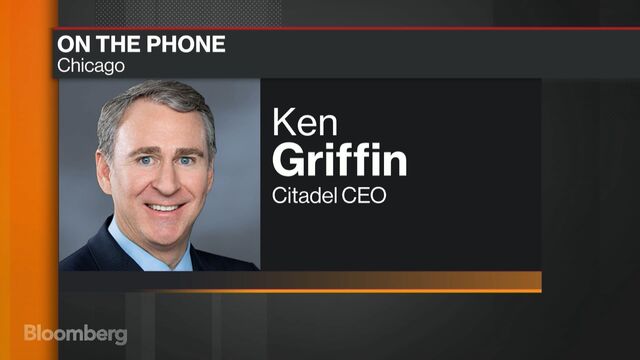 Hedge fund manager Kenneth Griffin is giving $125 million to the University of Chicago, the second-largest donation in the university's history.
The gift to Chicago, where he has been a trustee since 2014, will provide financial aid to students in its influential economics department and expand faculty resources and research, the school said Wednesday in a statement. He gave $150 million three years ago to his alma mater, Harvard University.

The University of Chicago counts 29 current or former faculty and alumni who have won the Nobel prize in economics, including Richard H. Thaler last month. The department will be renamed for Griffin, 49, founder and chief executive officer of Chicago-based Citadel, which has $27 billion in assets.
'Winning' Innovation
"I have an economics degree from Harvard," Griffin said in an interview. "If you think about the amount of critical thinking that has come into the field of economics, two universities have dominated the landscape in my life, Chicago and Harvard. Innovation has been won by Chicago."
The donation is the latest in a flurry of mega-gifts to universities, aided in part by the record-high stock market. The University of Chicago has received more than $350 million this year in large gifts and pledges, including $75 million for its business school and the Griffin gift. The University of Notre Dame received a $100 million unrestricted pledge. The University of Illinois at Urbana Champaign's business school will receive $150 million.
In 2014, Griffin's donation went to Harvard College, the university's undergraduate school that was established in 1636, to expand the financial-aid program. His new donation to the University of Chicago brings his total giving to the school to nearly $150 million.
Success Story
Griffin's gift through his charitable fund will go into its endowment. The fund reached a record $7.8 billion as of June, aided by gifts and investment returns. The fund had an investment gain of 11.4 percent for the year ended in June, lower than the average school fund. The fund gained an annualized 6.6 percent and 5.4 percent, for the past five and 10 years, respectively.
Griffin said some of his partners at Citadel have economics degrees or MBAs from the university.
"The success story at Citadel has been written by a number of people who have backgrounds from the University of Chicago," he said.
Before it's here, it's on the Bloomberg Terminal.
LEARN MORE