Brexit Bulletin: It's Not Me, It's EU
By
Next round of Brexit talks arranged to start in a week

Brexit Secretary Davis hints at scale of eventual exit bill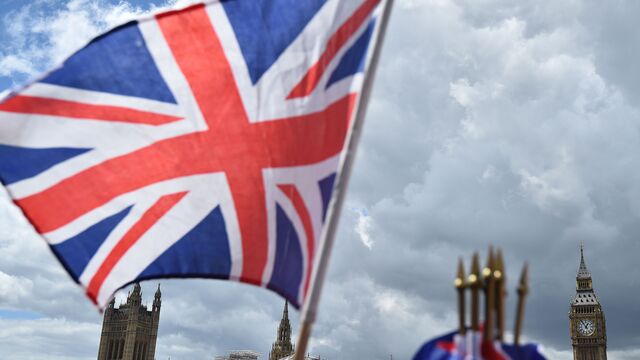 Sign up to receive the Brexit Bulletin in your inbox, and follow @Brexit on Twitter.
Talk to officials in Brussels, Paris or Berlin, and they all say the same thing: We're ready to go ahead and negotiate a post-Brexit trade deal as soon as the Brits stop dragging their feet on paying what they owe the EU. But British stonewalling hasn't just been on the issue of money.
In recent days, the Europeans have complained that Theresa May's government won't even say when it next wants to sit down at the negotiating table.
The EU's chief negotiator, Michel Barnier told reporters on Tuesday that he'd offered his British counterpart David Davis three new rounds of talks as a means to make progress before the next crunch summit in December. This is when both sides hope to be able to move discussions on from the divorce to trade. "I'm ready to speed up negotiations," Barnier told reporters in the Slovak capital, Bratislava.
Three and a half hours later, at the House of Lords EU committee in Westminster, Davis hit back, saying he'd invited Barnier to London for talks this week but had been turned down. "We are not holding up the process," he said.
To prove the point, Davis announced that negotiations will re-start next week. "I've come off the phone just before I got here," he said. A shorter, two-day round of talks will open on Nov. 9, with Davis and Barnier meeting the following day.
Parliamentary committee hearings with Davis are now essential viewing. He is in such demand that barely a week goes by without the Brexit secretary spending an hour or two being grilled by a panel of parliamentarians, each with a point to prove. More often than not, Davis makes news in these sessions.

On Tuesday he hinted he's expecting to have to compromise and face up to the 60 billion euros the EU is demanding for the Brexit bill. "The withdrawal agreement, on balance, will probably favor the union in terms of things like money," he said. Roughly translated, this means the U.K. knows that leaving will be expensive.
Even before payments to the EU are added up, the costs are already mounting at home. Getting ready to withdraw from the bloc has forced the British government to commit more than half a billion pounds so far. The U.K. has created nearly 3,000 new civil service jobs for Brexit, with another 5,000 lined up to be hired next year.
Davis also told the committee he would "listen carefully" to calls for the final deal to be approved by statute in Parliament. Was this another clue? Could the government be preparing to give in to a growing Tory revolt on its key Brexit law? We'll have to wait until the Withdrawal Bill is back for debate in the Commons on Nov. 14, Davis said.
Brexit Latest
Green's Denial | May's closest ally, First Secretary of State Damian Green, denied claims from writer Kate Maltby that he made inappropriate sexual advances toward her, as "completely untrue." May referred the matter to Cabinet Secretary Jeremy Heywood to urgently establish the facts of the case. The allegation emerged hours after May gave Green more power over Brexit policy discussions in Cabinet.
Busting Myths | A quiz for you: How qualified is your majority? Ever wondered if "reste a liquider" is a Belgian aperitif? Bloomberg's Ian Wishart takes aim at the 10 biggest myths currently in circulation about the state of Brexit. 
Victorian Values | Jeremy Corbyn's opposition Labour Party wants Davis to publish his 58 reports on the economic impact of Brexit, but he's refusing. Labour will revive a 19th century parliamentary ruse and ask the Queen to order her ministers to show the paperwork to the House of Commons.
Brexit Boost? | The shift by the U.S. and Britain toward more protectionist trade and immigration policies isn't hurting their reputation as places to do business, according to a new ranking from the World Bank. The U.S. moved up two positions to sixth in the development lender's rankings of 190 countries based on ease of doing business, while the U.K. retained its spot in seventh place.
Inflation Nation | The U.K.'s Brexit vote has cut disposable income by £600 ($795) per household, according to the National Institute of Economic and Social Research (NIESR). The pound's tumble since the 2016 referendum has pushed inflation significantly higher, while increasing uncertainty for businesses, damaging investment, productivity, and growth. NIESR also predicts a series of interest rate rises, starting this week and taking the benchmark rate to 2 percent in the middle of 2021. That's more than markets are currently expecting.
Boris's Bus | Boris Johnson's Vote Leave campaign claimed last year that Britain could spend 350 million pounds ($460 million) a week extra on the National Health Service instead of sending it to the EU. Famously, they put the money slogan on the side of the campaign bus. But the Office for National Statistics in London said Britain contributed £9.4 billion last year, about £180 million a week, once the money the U.K. gets back from the EU is taken into account.

And Finally...
Nigel Farage looks to be on course to get the meeting he craves with Michel Barnier (see yesterday's bulletin for more).
The former U.K. Independence Party leader wrote to the EU chief negotiator asking for a chat after pro-Remainers Nick Clegg and Ken Clarke paid a visit earlier this week.
"A reply will be sent," Mina Andreeva, spokeswoman for the European Commission, told reporters in Brussels. "Mr. Barnier's door is open."
For more on Brexit follow Bloomberg on Twitter, Facebook and Instagram
Before it's here, the Brexit Bulletin is on the Bloomberg Terminal.
Before it's here, it's on the Bloomberg Terminal.
LEARN MORE