This Think Tank Says BOE Hikes Will Continue
By
Institute revises down estimates of growth, output per hour

BOE likely to raise rates every 6 months until they reach 2%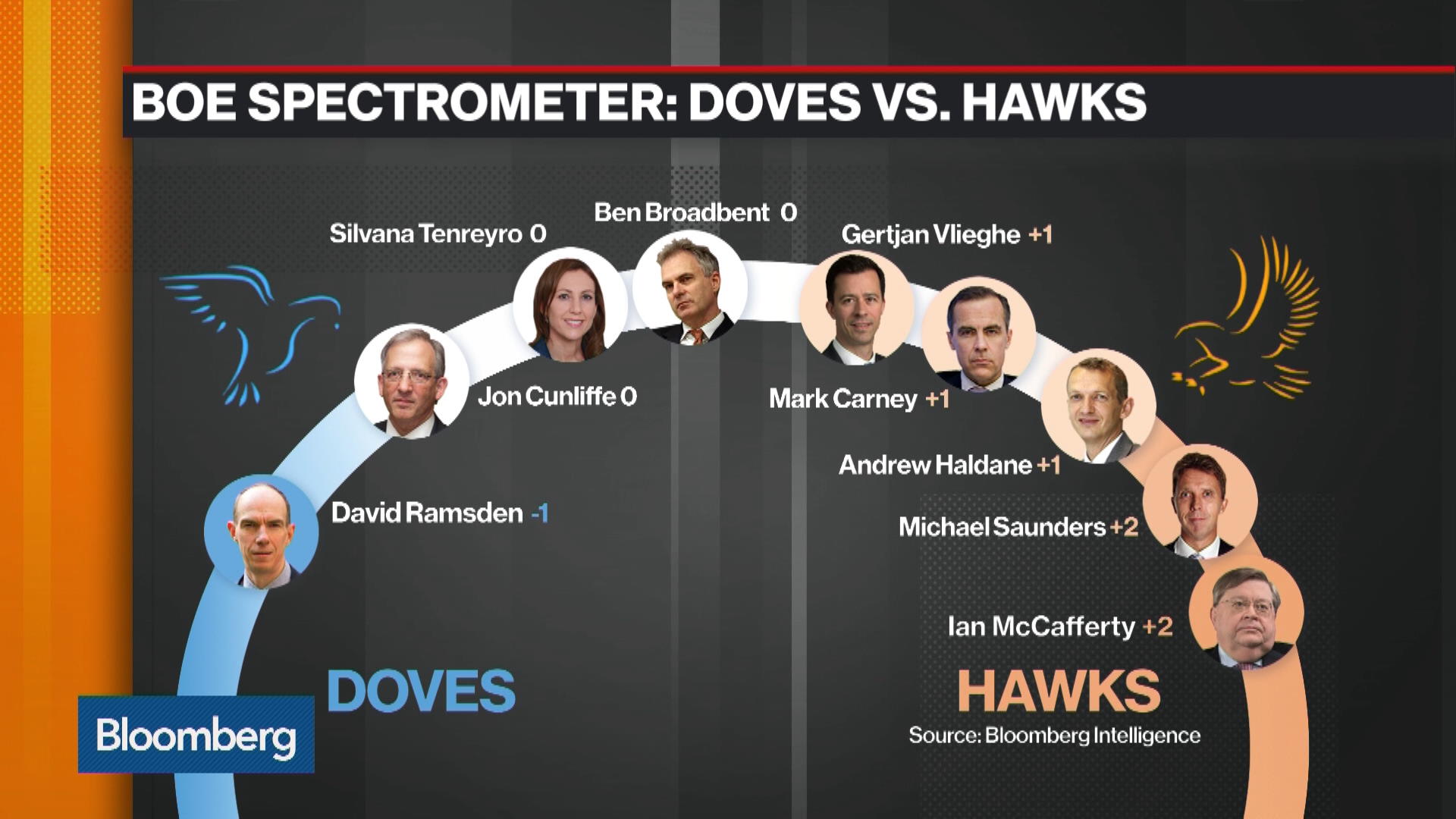 The Bank of England will continue tightening policy over the next few years even as productivity growth slows and Brexit damps momentum, according to the National Institute of Economic and Social Research.
The central bank will raise its benchmark rate by a quarter-point this week and continue doing so every six months until rates reach 2 percent from the current 0.25 percent in the middle of 2021, the think tank said in a report published Wednesday. That's more than markets are currently expecting and more than the institute forecast in August.
"The reason why we've got additional rate increases in our forecast this time is because of the lower productivity profile," Amit Kara, head of U.K. macroeconomic forecasting at Niesr, told reporters. "It's a negative supply shock. You get lower GDP growth, you get higher inflation."
If the BOE raises rates for the first time in more than a decade this week, it will be a consequence of the economy's lower potential growth after Brexit, which puts it at risk of overheating even at slower rates of expansion. Governor Mark Carney has emphasized that the U.K.'s exit from the European Union is already starting to crimp supply. Inflation has accelerated to 3 percent, a full point above the BOE's target.
Mortgage Demand
The prospect of higher borrowing costs has lifted demand for five-year fixed mortgage deals to a record, a separate report by property services firm LMS said. The impact of a rate increase might be more gradual than before since almost 90 percent of new mortgage loans are secured on fixed rates compared with around 45 percent in 2008, Niesr said.
Niesr revised down its growth forecasts to 1.6 percent this year and 1.7 percent next, with less of a contribution from consumer spending and more from trade. Inflation will likely peak at 3.2 percent in the last quarter of the year, and then settle at around 2 percent in the second half of 2019, Niesr said. Risks to that inflation forecast are tilted to the downside.
The estimates assume a two-year transitional period to a new relationship with the EU in which the U.K. retains full access to the bloc, and continues contributing to the budget.
The report also highlighted the potential for wage growth to take off, due to the National Living Wage and the possible lifting of the pay cap on public-sector workers.
"Any material spillover from public sector wages into private sector wages or from those that will directly benefit from a higher minimum wage to others will likely encourage the Bank of England to raise bank rate further," according to the research.
— With assistance by David Goodman
Before it's here, it's on the Bloomberg Terminal.
LEARN MORE