Balance of Power: New York Attack Turns Spotlight to Trump's Home Turf
By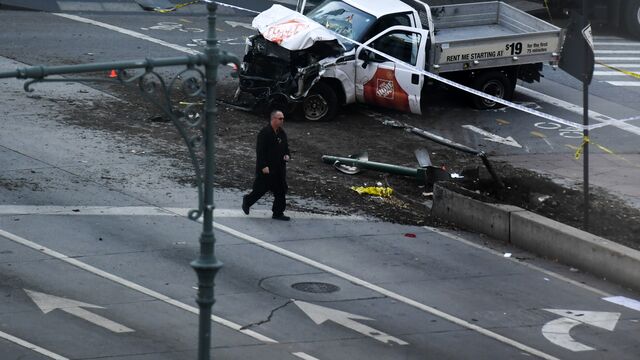 It's become an all-too familiar story across Europe: A motorist mows down pedestrians on a busy road in a major city.
That particular brand of terrorism made its way to U.S. shores yesterday, when a 29-year-old Uzbek man drove a rented pickup truck down a bike path in lower Manhattan.
At least eight people were killed and scores more injured in the attack, which brought renewed focus to President Donald Trump's pledge to prevent dangerous individuals from entering the U.S.
"I have just ordered Homeland Security to step up our already Extreme Vetting Program," Trump tweeted, without providing specifics. "Being politically correct is fine, but not for this!"
For Trump, the incident diverts attention from the charges against former campaign officials brought as part of Special Counsel Robert Mueller's investigation into Russian meddling in the 2016 election.
It also thrusts a top Trump domestic priority — cracking down on undocumented immigrants and strengthening screening of foreigners — back into the spotlight at a pivotal moment in his presidency.

Sign up to receive the Balance of Power newsletter in your inbox, and follow Bloomberg Politics on Twitter and Facebook for more.
Global Headlines
Email rocks Trump-Russia case | Former Trump adviser George Papadopoulos made a significant claim in an email: top campaign officials agreed to a pre-election meeting with representatives of Russian President Vladimir Putin. The message, if true, would bolster claims that Trump's campaign attempted to collude with Russian interests. But there's also no indication such a meeting ever occurred. The email, cited in an FBI agent's affidavit, wasn't included in court documents that detailed his secret guilty plea.
Grilling resumes | U.S. lawmakers will resume questioning lawyers from Facebook, Google and Twitter today over Russian election meddling after an uncomfortable grilling yesterday that included accusations that ads targeted "Jew haters." Yesterday the attorneys were forced to acknowledge that they don't know the full extent of foreign manipulation and don't have the technology to prevent it from happening again.
Tax bill delayed | House tax writers missed a self-imposed deadline to unveil their long-awaited tax bill, a sign of the difficulty Republicans will face in passing the measure by Thanksgiving. If the draft legislation is released tomorrow — one day later than planned — Republican leaders will have just 10 official days before the holiday to do nothing short of rewiring the U.S. economic engine.
Catalonian escape | Carles Puigdemont painted himself as a leader in exile fleeing a vengeful Spanish state when he spoke in Brussels yesterday. While he pledged to fight for independence, his sudden flight after vowing to go to jail for the cause left supporters baffled and leaderless. He may talk again at noon today (this time from Ghent), according to Spanish media.
Brexit myths | Seven months after Britain triggered the two-year countdown to exit the European Union, the path to Brexit is murkier than ever and fraught with contradictions. Part of the problem is general misunderstanding about what actually can and can't happen. Bloomberg's Ian Wishart lays out the truth about the 10 biggest Brexit myths.
And finally... Pakistan is taking a page out of Trump's book, starting work on a 12-foot barbed wire fence across its disputed 1,500 mile border with Afghanistan to keep out militants and drug traffickers. While just 25 miles have been completed since May — with doubts on how much can actually be built given the dangerous mountain terrain — Afghanistan isn't happy. The government in Kabul blasted the wall as an "undeclared war of aggression."

Before it's here, it's on the Bloomberg Terminal.
LEARN MORE