'Bad Boy of Brexit' Donations Probed by U.K. Election Regulator
By
Businessman Arron Banks gave $10 million to Leave campaign

Electoral Commission said it will probe possible breaches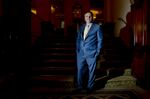 Arron Banks, a millionaire insurance entrepreneur who funded campaigns for Britain to leave the European Union, is being investigated by the U.K. Electoral Commission.
The move was announced amid calls by British lawmakers for an investigation into whether so-called "dark money'' played a role in the 2017 Brexit referendum. The U.K. Parliament is also concerned that foreign governments may have interfered in the vote.
Banks gave three loans to the Leave.EU campaign totaling 6 million pounds ($8 million), the Electoral Commission said in a statement. Better for the Country Ltd., an entity where Banks is a director, also donated 2.4 million pounds.
It is in the public interest to "ascertain whether or not impermissible donations were given to referendum campaigners and if any other related offenses have taken place," Bob Posner, director of political finance and regulation at the commission, said in the statement.
Banks described the allegations as "nonsense" and said the Electoral Commission was politically influenced.
"This is the Remain establishment once again trying to discredit the result and it's all starting to get rather boring," he said in a statement distributed by Leave.EU.
Banks, who openly courts controversy on social media, wrote a book about the referendum called "The Bad Boys of Brexit" in which he describes his upstart campaign in favor of Britain severing its ties with Europe. In an interview with The New Statesman magazine, he said he was an admirer of Vladimir Putin and had enjoyed a lunch with Russia's British ambassador during the referendum campaign.
The Electoral Commission said it will review whether Better for the Country was the true source of the donations, or whether is was acting as an agent, and whether Banks is the real source of the loans he made.
"My sole involvement with 'the Russians' was a boozy six-hour lunch with the ambassador where we drank the place dry," Banks said. "Hardly top secret stuff."
Before it's here, it's on the Bloomberg Terminal.
LEARN MORE