Venezuela Bond Holders Are in the Dark on PDVSA Payment Status
By , , and
Company said it made payment Oct. 27, sparking a bond rally

But bondholders haven't seen money in their accounts yet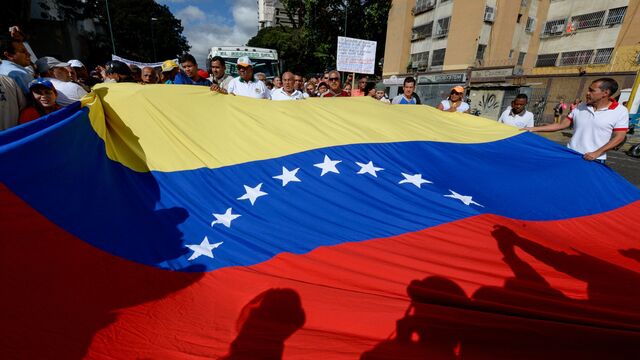 Depository Trust Company, one of the intermediaries handling Venezuela's bond payments, has told traders that the state oil company made a critical payment that was due Oct. 27, according to people with knowledge of the matter.
A trader at Bank of America Corp. told clients that they will probably see the cash in their accounts Thursday morning, according to three of the people. A spokesman for DTC declined to comment.
Bonds from Petroleos de Venezuela SA and Venezuela rallied, with the oil company's notes maturing in 2020 -- which had an $842 million amortization payment due Friday -- erasing earlier losses and jumping 1.6 cents to 85 cents on the dollar.
While PDVSA said on the due date that the money had been sent, capping days of speculation about whether the oil producer would default, investors didn't receive the money in their accounts. There's been no communication on the part of company or government officials since they said last week that they made the payment "despite the illegal and illegitimate sanctions" imposed on the country by the U.S. In August, the Trump administration blocked the purchase of new debt or equity issued by Venezuela and PDVSA, but there are no current restrictions on the trading of almost all existing securities.

PDVSA's bond trustee, Mitsubishi UFJ Financial Group, has also been keeping investors in the dark, saying it couldn't provide any information about the status of the funds, according to people with knowledge of the matter. Tom Hoagwood, a spokesman for MUFG, declined to comment.
Questions surrounding the status of the payment had put in doubt whether PDVSA will make a $1.1 billion principal payment due Thursday. The bonds maturing on that date pared earlier losses.
Click here to read which bonds are past due and who the major holders are
The principal payment on the 2020 bonds doesn't have a grace period. Ratings companies haven't issued any statements regarding whether the oil company is technically in default. On Oct. 20, S&P Global Ratings said it would lower PDVSA's CCC- rating to selective default if the company failed to pay its bonds.
If the bonds go unpaid after Nov. 1, investors may ask the International Swaps & Derivatives Association to determine whether a credit event occurred that can trigger $250 million in PDVSA credit default swaps.
Quotes from this Article
Before it's here, it's on the Bloomberg Terminal.
LEARN MORE