Trump Says 'Hopefully Not' on Phasing In Corporate Tax-Rate Cut
By
President says he wants to sign tax bill before Christmas

Conservative group calls gradual rate reduction 'problematic'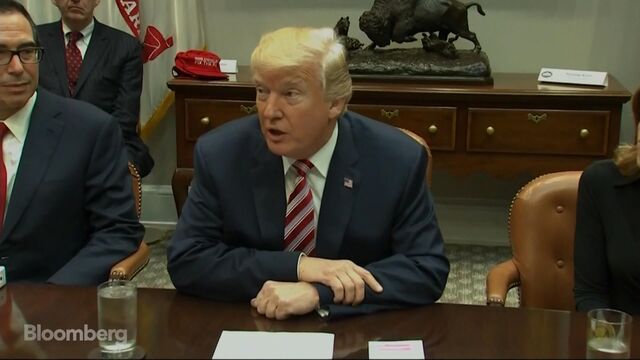 President Donald Trump said Tuesday that "some people have mentioned" phasing in a proposed corporate tax-rate cut as part of broad tax-overhaul legislation that'll be released Wednesday, but "we're not looking at that."
"Hopefully not," Trump said. "It's something, some people have mentioned that. But hopefully not."
Trump's comments came at the beginning of a meeting with various business interest groups that included the Chamber of Commerce, the Business Roundtable and the National Association of Manufacturers, according to a list made available by the White House. No new details of the tax legislation -- scheduled for a public unveiling Wednesday -- emerged during the session, according to one person who attended and asked not to be named because the meeting was private.
Trump also said he wants to sign a bill by Christmas, but "hopefully before" -- a goal that depends on unusually rapid action by Congress on complex legislation.
Trump and Republican congressional leaders want to cut the corporate tax rate to 20 percent from 35 percent. On Monday, a member of the House Ways and Means Committee told Bloomberg News that the panel was discussing phasing in that cut over five years, a schedule that would see the rate reach 20 percent in 2022. But that plan wasn't final, said the member, who asked not to be named because the discussions are private.
'Really Problematic'
Asked about the matter on Monday, Representative Kevin Brady, the committee's chairman said leaders prefer not to phase in the cut -- though he didn't rule it out. "We want to get the growth up front," he said.
If tax writers decide to do a "slow rolling" of the rate cut, that would be "really problematic and would not deliver the amount of growth we're looking for," said Levi Russell, a spokesman for Americans for Prosperity. The group, which is backed by billionaire industrialists Charles and David Koch, didn't attend Tuesday's meeting with Trump, but will join a meeting with Ryan and other conservative groups on Tuesday afternoon.
Republicans on the Ways and Means panel met Monday and again Tuesday to hammer out the details of the bill they plan to release Wednesday. In addition to the corporate tax-rate cut, it would consolidate the current seven individual tax brackets to three or four. It would also create a new top tax rate for certain "pass-through" business income from partnerships and limited liability companies -- 25 percent, down from as much as 39.6 percent currently.
The tax writers are struggling to find enough revenue to help the tax package adhere to the 2018 budget Congress adopted this month. That budget would allow the legislation to add no more than $1.5 trillion to the federal deficit -- before accounting for any economic growth that might result.
The notion of phasing in the corporate rate cut has emerged in the context of that discussion -- as have other potential ways to adjust costs or boost revenue.
— With assistance by Jennifer Jacobs, and Lynnley Browning
Before it's here, it's on the Bloomberg Terminal.
LEARN MORE