Trump Not Planning to Visit DMZ During South Korea Trip
By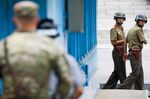 President Donald Trump won't visit the demilitarized zone dividing South Korea and North Korea during his trip to Asia that begins Friday, a senior administration official said Tuesday.
The president plans to visit Camp Humphreys, a relatively new Army base south of Seoul, and won't be able to fit a DMZ visit into his itinerary, the official said. Except for George H.W. Bush, who visited the fortified border as vice president, all of Trump's predecessors since Ronald Reagan have made the trip.
The official described the visit -- in which presidents typically peer into North Korea through binoculars, and are observed by North Korean soldiers -- as a cliche. Vice President Mike Pence visited the DMZ earlier this year and Defense Secretary James Mattis visited recently, the official noted.
Trump will stop in South Korea on Nov. 7 and 8. In addition to the Army base visit, he'll address the South Korean legislature. North Korea's nuclear and ballistic missile programs are the president's thorniest foreign policy crisis, as he seeks to prevent the dictatorship from developing a weapon capable of hitting the mainland U.S.
Before it's here, it's on the Bloomberg Terminal.
LEARN MORE