Tencent's Red-Hot E-Book IPO Sets Stage for Music Arm Debut
By , , and
China Literature priced shares at HK$55 apiece, top of range

Tecent Music seeks bank pitches for IPO of at least $1 billion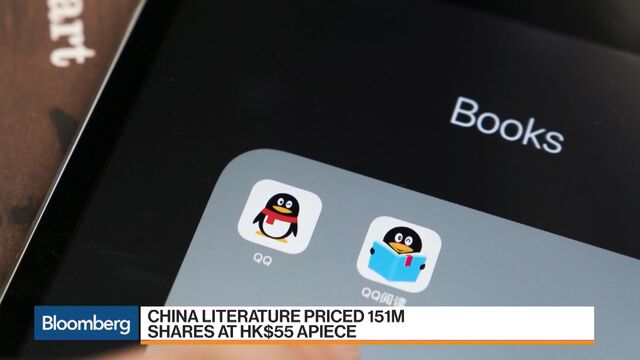 China Literature Ltd., the online reading unit helping Tencent Holdings Ltd. build an entertainment empire, raised $1.1 billion alongside existing investors in its Hong Kong initial public offering, according to people with knowledge of the matter.
The first-time share sale priced at the very top of a marketed range, the people said, asking not to be identified because the information is private. That confers upon the operator of the QQ Reading app -- a service akin to Amazon.com Inc.'s Kindle -- a market value of more than $6 billion when it begins trading Nov. 8.
Tencent, the internet giant whose interests run from ride-sharing to social media, aspires to create a Marvel- or Disney-style empire spanning movies, TV series and anime. As China's largest social media operator, it has scope to spin off other pieces of its sprawling empire in the future, both to raise cash and unlock value for shareholders. It's already fielding pitches from banks to handle an IPO for its music arm that could raise at least $1 billion next year, people with knowledge of the matter said.
"Spinning off the units would help Tencent unlock more value," said Li Yujie, an analyst at RHB Research Institute Sdn in Hong Kong. "It would also give the units more freedom to strategize and look for key partners to work with."
Read more: Tencent's Mix of Games, WeChat Drives Best Growth in 7 Years
Shenzhen-based Tencent became China's second-biggest technology company on the strength of its WeChat messaging app, which since has morphed into a portal for shopping, banking, gaming and entertainment. But it needs cash to bankroll acquisitions of content as well as a longer-term expansion into the relatively unfamiliar fields of finance and commerce. Apart from music, its Netflix-style video service -- ranked second only to Baidu Inc.'s iQiyi -- could be another spinoff candidate.
"If the video unit starts making money, it might become a candidate because then it would help them fetch a better valuation," Li said. "I don't think Tencent is in a hurry to spin off video though."
China Literature's Hong Kong coming-out party bodes well for future listings. The Tencent unit priced 151 million shares at HK$55 apiece after drawing orders for more than 600 times the stock available to individuals in the IPO, people with knowledge of the matter said earlier. The portion of the deal reserved for institutional money managers was also oversubscribed by several times, the people said. A representative for China Literature declined to comment.
Asia's Tech Scene Gets a New Warren Buffett at Tencent: Gadfly
Its IPO anchors an unusually full pipeline of deals at the end of the year. The Hong Kong overnight interbank rate, known as Hibor, approached a nine-year high this week partly due to retail investors locking up funds for a clutch of IPOs, including China Literature and gaming device maker Razer Inc. The rate also jumped when ZhongAn Online P&C Insurance Co. took orders for its $1.5 billion IPO in September.
Companies are seeking listings amid a surge in the city's benchmark Hang Seng Index, which last month hit its highest level in nearly a decade. Razer has set the terms for a Hong Kong IPO that could raise as much as $545 million, while Yixin Group Ltd., a unit of U.S.-listed Bitauto Holdings Ltd., has started gauging investor demand for a deal, according to terms for the deal obtained by Bloomberg.
China Literature's offering is the fifth-largest IPO in Hong Kong this year, according to data compiled by Bloomberg. First-time share sales in the city totaled $11.4 billion this year, compared with $21.8 billion during the same 2016 period, the data show.
Shares of Tencent rose 1.9 percent Wednesday in Hong Kong, on track for the highest closing price since its own listing in 2004.
Morgan Stanley, Bank of America Corp., Credit Suisse Group AG, China International Capital Corp. and JPMorgan Chase & Co. are joint global coordinators of the China Literature offering.
Quotes from this Article
Before it's here, it's on the Bloomberg Terminal.
LEARN MORE