Catalan Chief Makes Pitch as Exiled Leader in Fear of Spain
By , , and
Puigdemont's overtures to EU are rebuffed as bloc backs Rajoy

Leader depicts Spanish government as vengeful and violent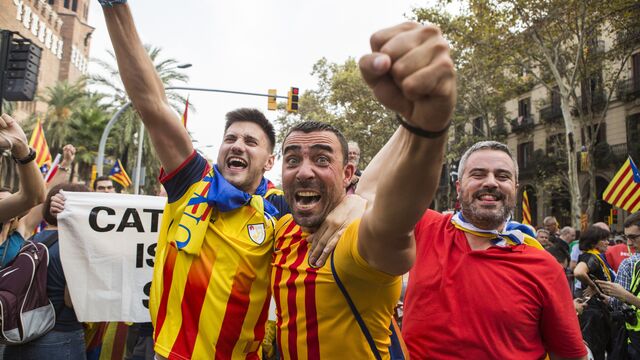 Ousted Catalan leader Carles Puigdemont painted himself as a leader in exile fleeing a vengeful and violent Spanish government, as he vowed to press Catalonia's case for independence to European leaders.
Puigdemont, who fled to Brussels after Spain responded to Catalonia's declaration of independence by seizing its government, said his team had acted to prevent violence. Spain was preparing a "highly aggressive and unprecedented offensive against the Catalan people." His government didn't ask civil servants to take sides, in the interests of safety.
"The republic cannot be built on violence," he told reporters on Tuesday in Brussels. "If the price of this attitude is slowing down the creation of the republic, we have to consider that this is a reasonable price in 21st century Europe."
Puigdemont's rhetoric was aimed at supporters who were left baffled and leaderless by his sudden exit, and disappointed at his failure to resist Madrid's seizure of the semi-autonomous government. Three days after Catalonia was declared an independent republic, Madrid faced no protests as it took control of key institutions, including the police. Puigdemont had long said he would go to jail for the cause.
Markets surged on the return to business as usual after weeks of uncertainty that saw companies moving their headquarters amid fears of a Catalan bank run. The EU continued to back the status quo, saying the matter was an internal one for Spain.
Resistance Stood Down
The grassroots organization that has galvanized support for independence, the Catalan National Assembly, was ready to lead resistance using trucks and crowds, according to a person in the organization who declined to be named. But Puigdemont was reluctant, and his departure left supporters disappointed, the person said. The ANC's head has been in jail since mid-October.
As the pro-independence movement begins to fragment -- with contrasting calls for moderation and resistance -- Prime Minister Mariano Rajoy is enjoying an increase in support. Rajoy, a leader who has been weakened by corruption scandals and a financial crisis, bided his time, seeking allies in Madrid for cover.
His government was initially criticized after images of police officers beating voters went around the world and his strategy has since become more measured. Last week, he secured the support of other parties before unleashing the most potent measures available to him -- firing Puigdemont, seizing the government and dissolving parliament.
Light Touch
The central government is trying to keep a low profile in Catalonia and make the intervention as unintrusive as possible, government officials said on Tuesday. It won't take political decisions, but just make sure services run properly, they said.
In Brussels, Puigdemont said he won't seek asylum but won't go back to Spain until he gets "guarantees" of a fair trial. His ousted Catalan government set up a website "in exile," on Tuesday.
Spanish courts are bent on "revenge rather than justice," he said. He faces 30 years in jail for charges including sedition, and the top prosecutor filed his case on Monday.
"It looks terrible. If you're an independence campaigner on the ground and you hear Puigdemont say I back you all the way but from here in Brussels, you're going to say great, thanks for nothing," Angel Talavera, an analyst at Oxford Economics in London, said by phone. "Politically he looks very burned now."
Read more: How Catalonia's Bloody Breakaway Bid Divides Spain
Just three weeks ago members of the national police were ready to arrest Puigdemont at the regional parliament if he followed through on a pledge to declare independence. Thousands of police were stationed in a ship at Barcelona's port. But he stepped back from the brink, or in the eyes of the independence movement, lost his nerve. He came to power in the first place on a pledge to seek independence and was propped up in parliament by radical anarchist-leaning separatists.
Puigdemont's rhetoric on Tuesday has echoes of the history of Catalans' long struggle for autonomy: Josep Tarradellas, a hero in Catalonia who set up the first regional government after the death of Francisco Franco, was in exile for decades during Franco's rule. And the most famous government in exile in Spain was the leftist republican government that was deposed by Franco's coup.
EU Unmoved
The ousted leader wants to make Catalonia the European Union's problem: the bloc has so far offered unified support to Rajoy and dismissed the result of the Oct. 1 referendum, which was illegal and organized without proper checks and controls. A poll showed on Tuesday 40 percent back independence, up from 35 percent in June. That's still far below the peak of 49 percent seen in 2013.
The EU stuck to its line on Tuesday, saying it's an internal matter for Spain.
Part of Puigdemont's government will stay in Barcelona to fight the election that Rajoy called for Dec. 21. The pro-independence parties say the election is illegitimate -- it's up to the regional government to call elections not Rajoy -- but have accepted they will fight them to pursue their cause. Puigdemont says he has left his vice president, Oriol Junqueras, in charge. Junqueras, who's from a party that backed independence long before Puigdemont's group did, has said he's staying in Spain, even though he too is named in the prosecutor's case.
— With assistance by Thomas Gualtieri
Before it's here, it's on the Bloomberg Terminal.
LEARN MORE