Pound Bears Smell Opportunity in One-And-Done BOE Rate Hike
By
Sterling may slide to $1.30 if Carney sounds dovish: survey

Analysts at Citi, BofAML bearish gilts ahead of the meeting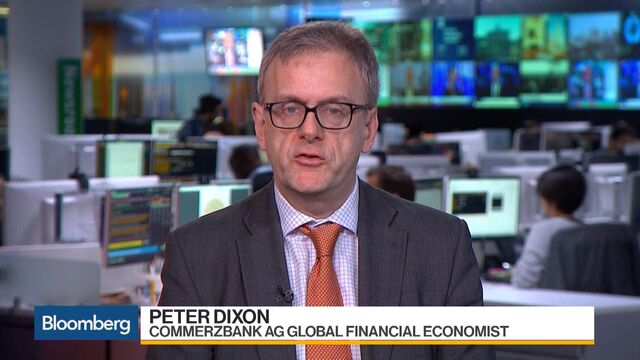 Bears are closing in on the pound ahead of the Bank of England's meeting this week.
While the central bank is widely expected to raise borrowing costs on Thursday, most economists say Governor Mark Carney won't be in any hurry to raise interest rates subsequently. That means the pound is vulnerable to a drop of more than 1 percent from current levels, strategists say.

The currency could slide to $1.30, from about $1.32 on Tuesday, on indications of a 'one and done' interest-rate increase from the BOE, according to the median forecast of eight analysts in a Bloomberg survey. In contrast, if the central bank indicates that a November move is the first step in a hiking cycle, either through its language or through the number voting for an increase on Thursday, the pound could rise about 1 percent to $1.33.
A shift in the BOE's rhetoric in recent months has sent expectations surging for the first rate hike in a decade, with traders now pricing in an 88 percent chance of an increase. However, market positioning also signals a split in what that means for the currency, with asset managers short on the pound and hedge funds long, according to CFTC data as of Oct. 24.
"We do not expect the BOE to embrace a sustained pace of tightening," said Banco Bilbao Vizcaya Argentaria SA's head of Group-of-10 strategy Roberto Cobo Garcia. "As a result, any knee-jerk strengthening in the pound could turn out to be very much short-lived as uncertainties still loom too large to be dismissed by the pound yet."
If the bank doesn't hike at all, the market reaction would be dramatic. The pound could tumble more than 2 percent to $1.29, according to the median in the survey, while the yield on 10-year U.K. government bonds may also drop. It would take a hawkish hike to drive up yields, Scotiabank's Alan Clarke said.

Here is a summary of some of the market moves analysts are predicting in each scenario:
Hawkish Hike
This scenario is based on the nine-member Monetary Policy Committee voting dramatically in favor of a hike, and a communication from Carney that this is the start of a tightening cycle:
If the bank keeps the market awaiting more hikes, "that will be a 0.75 percent move higher in sterling as many economists still expect this to be a one and done," says Nomura's Jordan Rochester
Citigroup is bearish gilts into the meeting "as the MPC is likely to opt to keep up the hawkish bias," says strategist Jamie Searle in a research note
MUFG's Lee Hardman sees the bank giving a hawkish signal as a one and done hike would "go against all communication in recent months"
A hawkish hike will provoke a further gilt sell-off with the 10-year yield rising to 1.5 percent, according to Scotiabank's Clarke
Dovish Hike
This would come from a far closer vote among the MPC, and language in the minutes and press conference that emphasizes a gradual path higher for rates. It may even push back against the market's current pricing of another hike by November next year:
This is the most likely scenario, says Mizuho's head of hedge fund sales Neil Jones
Euro-sterling should see a modest rebound and gilts should rally "provided that the market remains confident that inflation expectations remain contained," according to CIBC analyst Jeremy Stretch
For MUFG's Hardman, the scope for a dovish BOE hike is limited as the market is only pricing in one more hike by September 2018
Scotiabank's Clarke on the other hand sees it as unlikely "that having delivered the first rate hike for a decade that the MPC is going to apologize, or feel sheepish about hiking -- they will explain all the good reasons why now is the time to take the foot off the accelerator pedal"

Adds that the market is "braced for some dovishness"; A dovish hike would have a lesser impact on the shorter end of the bond curve with two-year benchmark gilts likely to remain unchanged
No Hike:
BOE shocks the market by keeping rates on hold:
If the BOE doesn't move, it could push cable and euro-sterling back toward pre-September levels, meaning $1.28 and 92 pence per euro, said BBVA's Garcia
"It would be a major surprise if the BOE did not hike this week given their recent signals and it would have pretty dire consequences for the pound," said ING's Viraj Patel, who sees sterling dropping as low as $1.2750 under this scenario
The BOE's guidance that it will raise rates in the coming months is open to interpretation, according to CIBC's Stretch
With a rate hike already priced in, "the BOE will be more of a market mover if it fails to follow through again" and cable could drop to $1.29, said MUFG's Hardman
— With assistance by David Goodman, and Hayley Warren
Before it's here, it's on the Bloomberg Terminal.
LEARN MORE