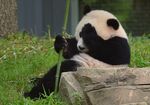 China has great expectations for its capital markets, from trading oil futures in yuan to encouraging overseas companies to issue so-called Panda bonds. Senior officials at the People's Bank of China have also floated the idea of easing restrictions on overseas lenders.
There's some evidence that foreigners are tiptoeing in. At the end of September, the amount of bonds held by offshore investors in the interbank market surpassed 1 trillion yuan ($150 billion), from 843 billion yuan three months ago. That's testament to the success of the bond-connect program between Hong Kong and Shanghai that started in July.
Overseas investors also hold more negotiable certificates of deposit than domestic securities firms, according to data from BNP Paribas SA.
But this is only hot money parked in the most liquid segment of the market. Few entities have chosen to sell panda bonds -- yuan-denominated securities issued in China by foreign borrowers.
Companies may be biding their time to see whether the central bank can develop this market without major hiccups.
China sold its first sovereign dollar bond since 2004 last week, an issue aimed at creating a new benchmark for state enterprises raising funds overseas, according to the Ministry of Finance. But the offshore yuan bond market has been left to wither. The government has issued only $1 billion of sovereign dim sum notes -- yuan-denominated securities sold outside China -- so far in 2017, a sharp step back from the past two years.
China's heavy-handed and awkward liberalization of its currency has caused the dim sum market to all but disappear. Since the August 2015 devaluation, the three-month yuan interbank rate in Hong Kong has spiked above 10 percent on various occasions as the PBOC battled currency bears. With offshore yuan bonds yielding an average of only 4.6 percent, a meaningful market can't exist.

Meanwhile, China's onshore bond market is suddenly looking volatile. On Monday, the yield on the 10-year government security breached 3.9 percent, a level unseen since late 2014. The selloff comes at an interesting time -- immediately after the conclusion of the Communist Party's 19th Congress, when stability was the paramount concern. 
Looking ahead, the picture gets even murkier. Later this month will be the Central Economic Work Conference, where China's highest-level economic policies are set.  With the congress over, the focus is back on deleveraging: The PBOC is willing to tolerate higher borrowing costs to squeeze out excessive indebtedness, though how far its commitment will extend isn't yet clear.
Until this question is settled, capital-markets development will take a back seat. Pandas will remain rare, for now.
Before it's here, it's on the Bloomberg Terminal.
LEARN MORE