Jailed Hedge Fund Head Is Star Witness in Amanat Trial
By
Maiden is 'cocaine-addicted' liar, defense lawyer says

Defense lawyers signal they will target U.S. star witness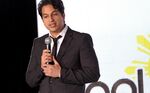 Disgraced hedge fund founder Stephen Maiden is set to testify Wednesday against two former business associates who stand accused of manipulating shares in the video-software company KIT Digital Inc. before it filed for bankruptcy.
KIT's former Chief Executive Officer Kaleil Isaza Tuzman and tech industry entrepreneur Omar Amanat are accused of using Maiden's fund to mask KIT's failing finances and to hide massive trading losses at an investment fund run by Amanat's brother. Defense lawyers wasted no time targeting Maiden's character when the trial started Monday.
Maiden is a "cocaine-addicted fraudster and admitted liar," Amanat's attorney Randall Jackson told jurors during his opening statement. "The government's star witness took his clients' money and blamed his gambles on Omar."
In February 2015, Maiden was sentenced to seven years in prison for carrying out an $8.9 million Ponzi scheme that ripped off 39 victims. When his Charlotte, North Carolina-based fund ran out of cash, Maiden started sending his customers bogus account statements. Testifying against Amanat and Tuzman could aid Maiden in seeking an early release.
Jackson called the government case against Amanat a "simplistic narrative," while Tuzman's attorney, Marcellus Antonio McRae, said the trial was built on "cherry-picked documents taken out of context."
"Mr. Maiden wants to get out of prison," McRae said in his opening remarks. "The fraud in this case was hidden from Kaleil."
Maiden's attorney, Richard Glaser, declined to comment.
Fraud Charges Cloud Entrepreneur's Story of His Success
In addition to market manipulation, Amanat is accused of defrauding Maiden's investors, while Tuzman is accused of accounting violations. Their goal was to prop up the fund run by Amanat's brother, Enable Invest Ltd. It didn't work out. The Dubai-based fund collapsed, as did Maiden Capital. KIT Digital filed for bankruptcy in 2013.
The government alleges the men "sent money in circles," from KIT to Enable to Maiden, to hide losses at each company. Maiden's testimony was delayed after the trial's first witness took longer than expected.
The jury heard on Tuesday from former KIT board member Joseph Mullin, who attended Harvard with Tuzman and was once close friends with him. Mullin, testifying for the government, said he credits Tuzman with helping him get a job at Goldman Sachs Group Inc., where Tuzman also used to work. But he blamed Tuzman for his $100,000 investment in KIT becoming worthless and says KIT's woes were hidden from him.
Mullin testified about a trip he took to Dubai to examine KIT's doomed investment in Enable. He also testified that Tuzman never revealed to him an $8 million "hole" in KIT's escrow account. Mullin, now the chief financial officer of Bridge Therapeutics, resigned from KIT's board in 2012.
Both defense attorneys portrayed their clients as savvy entrepreneurs who survived the dot-com crash and found success in the tech industry before getting stung by the financial crisis in 2008, when the alleged fraud began. The lawyers rejected the U.S. portrayal of the men as con artists, saying the jury would see extensive evidence of the pair's business successes.
But in the government's opening statement, jurors were told they'd also see evidence of phony financial statements and numerous discussions about the frauds in text messages and emails exchanged between Amanat, Tuzman and Maiden.
In one such message, Amanat wrote to Maiden that Tuzman needs to realize "it doesn't matter who did what" if investors realize the money is gone, Assistant U.S. Attorney Joshua Naftalis told the jury. Amanat then made a reference to "criminal behavior, jail time," Naftalis said.
"It doesn't get more devastating than that," the prosecutor said.
Character Attacks
The defense lawyers also attacked the character of two other key government witnesses, former KIT Digital officials who pleaded guilty and agreed to cooperate. The company's former chief financial officer, Robin Smyth, and its ex-president, Gavin Campion, are both expected to testify. McRae said the fraud had been instigated by them before Tuzman joined KIT Digital, and that it was hidden from him.
David Miller, a former federal prosecutor who isn't involved in the case, said the government has "a variety of tools at its disposal to try to secure convictions at trial" so it's giving the jury the options of multiple, overlapping frauds.
"In essence, the government may be trying to use a specific amount of evidence to see what sticks for multiple alleged frauds," Miller said in a phone call.
The case is U.S. v. Amanat, 15-cr-536, U.S. District Court, Southern District of New York (Manhattan).
Before it's here, it's on the Bloomberg Terminal.
LEARN MORE