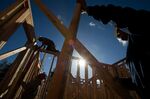 Goldman Sachs economists agree with Bridgewater Associates' Ray Dalio: The U.S. economy is running at two speeds. 

Goldman researchers examine how the U.S.'s divided labor market could influence the Fed in a new research note, weighing in with a point that recalls one Dalio made earlier this month. Their analysis kicks off this week's economic research roundup, which also summarizes studies on whether global factors are holding down inflation and how worldwide shocks impact U.S. employment. Check this column each Tuesday for the latest research from central banks, academics and bank economists around the world. 
One nation, two labor markets 
Headline joblessness may be at a more than 16-year low, but that bullish trend obscures the fact that the labor market is split into two "quite different stories," Goldman Sachs economists write. A pool of would-be workers remain on the sidelines, and there are reasons to think they can be pulled back into the game. The share of discouraged workers has shrunk, and people are even coming back into jobs from disability. If the labor market gets as hot as it was back in 1999-2000, the economists think participation could climb by a few tenths of a percentage point. 

That conclusion is important. Goldman had been skeptical that a tight labor market could push up participation, so this marks a shift in their thinking. If the Fed concurs, it leaves the central bank with a tough choice: should the rate-setting Federal Open Market Committee run the economy hot to attract disenfranchised workers, even if that risks overshooting on inflation amid low headline unemployment? "The FOMC seems to find this trade-off unappealing and is likely to continue to tighten steadily as a result,'' the economists write. 

While the Goldman analysis focuses on the labor market split, Dalio pointed out that aggregate statistics mask a division in labor, retirement savings, health care and wealth building. The common theme is that uneven outcomes mean the Fed must take underlying details into account when assessing economic progress. 
US Economics Analyst: A Divided Labor Market
Published Oct. 29, 2017
Available to Goldman Sachs subscribers
Weekly Demo(graphic) 
From the Goldman Sachs note – here's the share of people who found their way back from the labor market's sidelines over the past year, grouped by their previous labor status. Flow into work is up significantly from 2010-2011 for the long-term unemployed, discouraged workers, and those who didn't want jobs, but remains lower than 1999-2000 levels. 

Don't blame weak inflation on globalization
Advanced economies are facing slower core inflation simultaneously, but policy makers can't pin the blame purely on a common global trend, researchers at Canada's central bank find. Across 11 economies, only 14 percent of the variation in core inflation rates seems to be tied to common factors since 2011, even smaller than the 24 percent for a longer period of study back to 1997, Bank of Canada economists write in a recent paper.  It's worth noting that this is really only true for core prices. Headline inflation rates – which include fuel and food – were more susceptible to global trends, with a common factor explaining 47 percent of changes.

Given that prices still respond to domestic slack, recent weakness doesn't represent a breakdown of the Phillips curve relationship between inflation and the output gap, the authors write. Data since 2016 suggest "there is a positive, albeit modest, relationship between economic slack and inflation."

Low Inflation in Advanced Economies: Facts and Drivers
Published Oct. 25
Available on the Bank of Canada website
…. but global slumps reverberate in jobs
While global shifts may have a limited impact on inflation, they're having a more marked effect on U.S. labor markets. Global shocks – defined as shocks to real output across 21 advanced and developing nations – account for 25 percent of variation in job gains across U.S. states, on average, based on new Dallas Fed research. The impact is a lot smaller in places that are heavily dependent on energy or government employment, like Alaska and Washington, D.C. The expected effect of a surprise slowdown in global growth is most pronounced in Nevada, Wyoming and Idaho. In aggregate, a 0.5 percent surprise decline in foreign output is expected to cost 111,700 jobs, based on the researchers' findings. 
Global and National Shocks Explain A Large Share of State Job Growth
Published October 2017
Available on the Dallas Fed website
Quotes from this Article
Before it's here, it's on the Bloomberg Terminal.
LEARN MORE