Former Bank of Canada Governor Calls Poloz's Caution a Mistake
By
David Dodge says higher rates needed to slow debt accumulation

Bank of Canada kept benchmark rate at 1 percent last week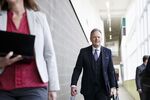 One of Governor Stephen Poloz's predecessors says the Bank of Canada's current approach to increasing interest rates is too cautious.
David Dodge, who led the Canadian central bank between 2001 and 2008, thinks Poloz should focus more on the long-neglected issue of financial stability and take the opportunity to raise rates now that the economy is running more or less at potential. Poloz kept his benchmark rate at 1 percent last week and indicated he's in no rush to tighten, given that he still sees signs of wage and inflation slack.
Keeping borrowing costs low will only encourage households and businesses to keep adding debt, risks that should factor in more to the central bank's decision making, Dodge said in a telephone interview.
"While I understand why they want to be cautious, and I think that's quite correct, the fact that they are not moving to deal with what is a problem in financial markets arising from this very long period of very low interest rates I think is a mistake," Dodge said.
Interest rates could rise by a full percentage point and still remain well below the 3 percent the Bank of Canada estimates is "neutral" for the economy -- neither stimulative or contractionary.
"It's not like the bank is being unreasonable," said Dodge. "Their's would be more or less the mainstream view, whereas I put a little bit more emphasis" on financial system distortions. "I've lived through earlier periods," he said, in reference to the financial crisis.
While government debt levels are low, Canada has by far the most private sector debt relative to GDP in the Group of Seven.
"If we think we are actually growing at about the capacity of the economy and are pretty much balanced, then indeed we should have rates that are higher than they currently are," Dodge said.
Poloz Testimony
The issue of financial stability will get some attention Tuesday when Poloz gives his twice-annual testimony to lawmakers. The spotlight though will likely be risks associated with raising interest rates, not keeping them too low, given the impact higher borrowing costs will have on highly indebted households.
The fact new government spending measures, outlined last week by Finance Minister Bill Morneau, could pressure the central bank to move rates higher is already drawing opposition attention to the matter.
"I want to highlight the potential risks that Canada faces as interest rates inevitably begin to rise," Pierre Poilievre, the opposition Conservative Party lawmaker responsible for finance issues, said in a phone interview.
"We have both growing household debt and growing government debt," he said. "I want to know more about the burden that these higher rates will mean for Canadian taxpayers and families over the next decade."
Poloz has cited the increased sensitivity of the economy to higher interest rates as one reason to remain cautious, but at a press conference last week he wouldn't be drawn on whether the new spending measures were stimulative.
The governor and his Senior Deputy Governor Carolyn Wilkins are due to address the House of Commons Standing Committee on Finance at 3:30 p.m. Ottawa time.
Debt Baton
The Bank of Canada's latest credit data show growth in debt financing is slowing from elevated levels earlier this year. Still, 2017 is on pace for the strongest year since the 2008-2009 recession.
Total business and household credit in the economy reached C$4.08 trillion ($3.2 trillion) in September, 7.2 percent above year ago levels.

The increase is mostly due to a surge in borrowing by businesses, which have increased credit by 9.1 percent from a year ago, accounting for 60 percent of all credit taken out in the economy over that time.
That could be a good thing if it means companies are financing investments. Since corporate borrowing is rising faster than investment, however, it may suggest instead that companies are taking on debt to fund share buybacks or higher dividends, Dodge said. The debt baton is simply being passed from one sector to another.
"The bank talks about the household sector, which is worrisome," Dodge said. "But we also have a number of corporations which are overextended, which is also quite worrisome from the perspective of future macro financial stability."
The rising level of business credit may reflect a number of other things as well. According to Doug Porter, Bank of Montreal chief economist, economic data show companies have also been ramping up inventories this year, which needs to be financed.
They are also in the process of repairing income statements, after a tough couple of years of profits, and may need some debt to get investments going.
"We might be at the stage of the cycle where businesses do need a bit of financing to support modest increases in capital spending," Porter said. "But perhaps a year from now as earnings grow they won't need as much external financing."
Language Matters
Since the Oct. 25 decision and Poloz's talk of being cautious, investors have pared bets on a rate increase at the Dec. 6 meeting to a one-in-four chance, from about 50-50 early last week. Language in the statement accompanying the rate decision may have something to do with that.
The Bank of Canada's rate statements often have language to describe the appropriateness of monetary policy or stimulus. Reappearing in last week's statement after a two-month absence was this phrase: the "current stance of monetary policy is appropriate."
A variation of that phrase has appeared 21 times in Poloz's statements dating back to 2014, but only once immediately preceding a rate change -- the surprise rate cut in January 2015.
Watch Next: Canada's Morneau on Recession Risks, Nafta Talks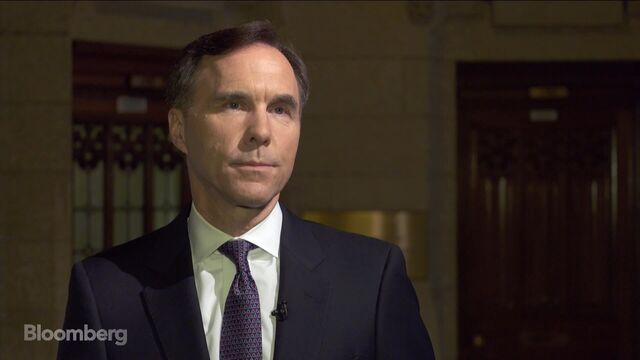 — With assistance by Erik Hertzberg
Before it's here, it's on the Bloomberg Terminal.
LEARN MORE