Corbyn's Plan to Get May's Tories to Give Up 58 Brexit Secrets
By
Opposition wants government to publish 58 impact assessments

Obscure parliamentary device could compel their handover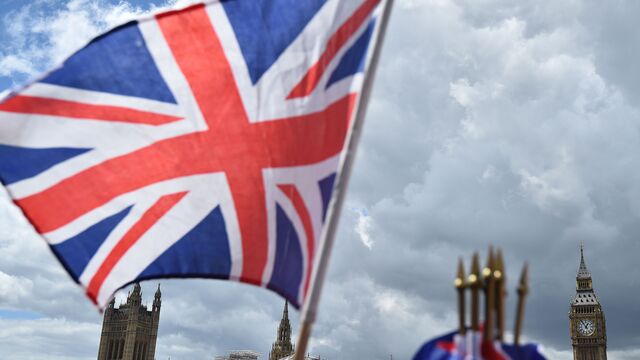 The main U.K. opposition party wants to deploy a parliamentary tool hardly used since the 19th century to get Theresa May's Conservatives to spill Brexit secrets.
The political prize? The release of 58 studies on how leaving the European Union will affect industries that make up 88 percent of the economy.
Brexit Secretary David Davis said he didn't want to publish the studies because it would compromise the U.K.'s negotiating position. On Monday, he listed the sectors in a letter but stopped short of revealing more.
Jeremy Corbyn's Labour wants to use an obscure legislative device to force the hand of Tories, who have been coy about what the economic fallout might be when the country leaves the 28-nation bloc.
On Wednesday, Labour will argue that lawmakers should have the right to see the studies, and will ask Parliament to vote to make "an humble address" to Queen Elizabeth II, asking her to order her ministers to release the assessments to the House of Commons Brexit Committee.
This means-to-an-end hasn't been used much since Victorian times.
"Ministers cannot keep withholding vital information from Parliament about the impact of Brexit on jobs and the economy," Labour Brexit spokesman Keir Starmer said in an emailed statement.
Read more: How Theresa May's Snap Election Delivered a Hung Parliament
The vote is the latest example of Labour exploiting the current tight parliamentary arithmetic to put May's Brexit strategy under scrutiny. To succeed, Labour needs to persuade lawmakers in May's party to support them or simply abstain. After a disastrous election in June, the premier has a working majority only thanks to a fistful of Northern Irish lawmakers.
If the studies show that Brexit could damage the economy, they are likely to embarrass the government. Davis on Tuesday told a House of Lords committee not to get too excited about the assessments.
"They are not economic models, of each sector," he said. "They are looking at how much depends on the EU market compared to other markets. I wouldn't overestimate what they are."
Before it's here, it's on the Bloomberg Terminal.
LEARN MORE