Balance of Power: Inching Closer to Trump's Inner Circle?
By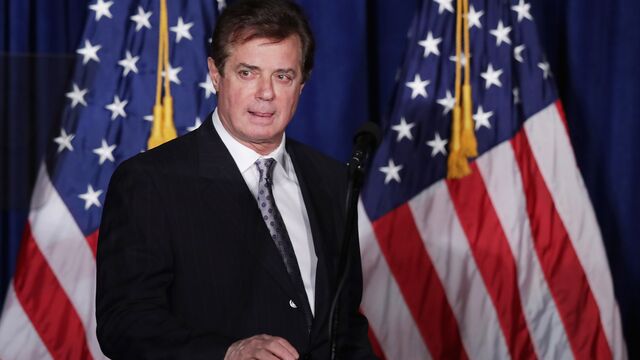 Robert Mueller is just warming up.
That's the message the special counsel sent yesterday with charges against three former Donald Trump campaign aides that suggest he's building a case the president's team communicated with Russian officials who aimed to defeat Hillary Clinton.
Particularly troublesome for Trump is a cooperating witness: George Papadopoulos, a junior campaign-adviser who pleaded guilty to lying to the FBI. At least two high-level Trump campaign supervisors were aware of Papadopoulos's Russian contacts, according to court documents.
"People thought there was smoke, but this is evidence there was fire," said former federal prosecutor Philip Hilder.
Mueller also unsealed indictments against former Trump campaign chairman Paul Manafort and an aide, Rick Gates. Mueller's straightforward case against Manafort presents him with a stark choice: cooperate or fight, and potentially face years in prison.
In a sign the probe could ensnare both parties, Democratic lobbyist Tony Podesta -- the brother of Clinton campaign manager John Podesta -- stepped down after Manafort's indictment drew attention to his company's foreign advocacy.
As the White House seeks to distance itself from Mueller's first targets, the key question is how much closer the special prosecutor's next move will bring him to Trump's inner circle.
Sign up to receive the Balance of Power newsletter in your inbox, and follow Bloomberg Politics on Twitter and Facebook for more.

Global Headlines
Social media hot seat | Mueller's charges will lend urgency to Senate hearings starting today over Moscow's use of Facebook, Twitter and Google to meddle in the U.S. election. As Sarah Frier reports, Facebook's general council is planning to reveal that Russian-generated ads and posts landed in the accounts of 126 million of its users -- equivalent to 40 percent of the U.S. population.
Corporate tax cut delay | House tax writers are discussing a phase-in for the Republicans' proposed corporate tax cut that would put the rate at 20 percent in 2022. The proposal would delay some of the economic effects Trump and his advisers have sought to emphasize. Legislation is set to be unveiled tomorrow.
7 EU risks | Even as economic confidence in the euro area reaches historic highs, a series of political risks simmering across the European Union still threaten to undermine the bloc's fragile recovery. Viktoria Dendrinou has a look at some of the issues that investors might be ignoring.  
Macri's harvest | For Argentina's wheat farmers, the triumph of President Mauricio Macri in midterm elections is rekindling dreams of past glory. Wheat seeding slumped to the lowest since the early 1900s under former President Cristina Fernandez de Kirchner's protectionist policies. Macri's move to scrap an export tax and seek new markets has pushed planting to the most in a decade.
Moon's outreach | Shortly before Trump arrives in Seoul, South Korean President Moon Jae-in has sought to mend ties with both North Korea and China. He reached a deal with Beijing to set aside a dispute over the deployment of a U.S. missile shield that had prompted China to retaliate against South Korean companies. He also urged North Korea to participate in the Winter Olympics next February in Pyeongchang, an area not far from the border. No word yet on whether Kim Jong Un will accept the invite. 
And finally... Even on the most challenging of days, presidents have to put on a smile, shake hands and kiss babies. That was the case last night, when Trump handed out Halloween candy -- and a few high fives -- to youngsters on the White House's South Lawn. The spooky gathering was Trump's only public event of the day.

Before it's here, it's on the Bloomberg Terminal.
LEARN MORE