business
Your Evening Briefing
Here are today's top stories.
By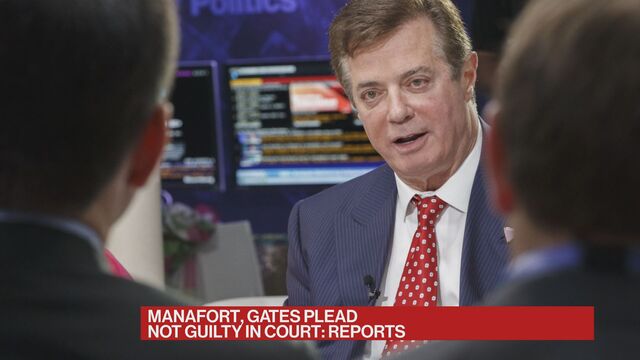 Want to receive this post in your inbox every afternoon? Sign up here.
The weekend kicked off with reports that the first charges had been filed in Robert Mueller's Russia probe, and on Monday morning the floodgates opened. While the general shape of the investigation into Paul Manafort's activities has been known for months, the charges against a former policy adviser are the most direct indication of coordination between the Trump campaign and Russian officials.
In other troubling news, France is running out of butter for its croissants. —Megan Hess
The federal investigation into whether President Donald Trump's campaign colluded with Russia took a major turn Monday when authorities revealed that three people — former campaign chief Paul Manafort, Manafort's business partner Rick Gates, and former policy adviser George Papadopoulos — were charged with crimes ranging from money laundering and tax evasion to lying to the FBI. Meanwhile, Trump falsely claimed in a tweet that Manafort's indictment predated his campaign. Manafort and Gates were put under house arrest because they're seen as a flight risk after pleading not guilty.
Homes are getting snapped up at the fastest pace in 30 years. The typical U.S. home lasted just three weeks on the market, according to a new report. For-sale listings are in short supply, forcing buyers to move fast and pay up to close the deal. In 2017, 42 percent of buyers paid at least the listing price, the highest share since the National Association of Realtors started keeping track in 2007.
France is running out of butter for its croissants. Soaring global demand and falling supplies have boosted prices, and with French supermarkets unwilling to pay them, producers are taking their goods across the border. That has left the French, the world's biggest per-capita consumer of butter, in short supply.
Trump will announce his pick for the next Fed chairman on Thursday. The president is leaning toward nominating Federal Reserve Governor Jerome Powell to lead the U.S. central bank, according to three people familiar with the matter. Other candidates on his shortlist include current Fed Chair Janet Yellen, Stanford University economist John Taylor, former Fed governor Kevin Warsh and National Economic Council Director Gary Cohn.
SoftBank's talks to merge Sprint with T-Mobile are in trouble, throwing the deal into jeopardy after months of discussions. In the past three days, the companies have been unable to get past differences over valuation. Meanwhile, several members of SoftBank's board have raised concerns about giving up control of the U.S. wireless business.
Why is the government giving money to dying malls? Sales of malls and other shopping centers are at the lowest level since 2012, according to a real estate research firm. That's taking a toll on shares of mall operators. But there is at least one player still willing to take the risk: local governments hungry for tax revenues.
The best restaurants in New York. When the Michelin Guide's 2018 New York stars were announced on Monday, the vaunted Jean-Georges went from a three-star restaurant to a two-star. New York now has only five three-star restaurants, including Le Bernardin, Masa, and Eleven Madison Park. The bright spot for New York on this year's Michelin list is the elevation of Japanese cuisine.
Before it's here, it's on the Bloomberg Terminal.
LEARN MORE