The U.K. Wants to Convince EU Leaders It's Making Brexit Progress
By
Davis said to plan meeting with Germany, others to push agenda

U.K. said to fear some leaders can't see progress made so far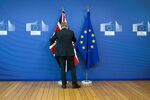 Follow @Brexit for all the latest news, and sign up to our daily Brexit Bulletin newsletter.
Theresa May's government will step up its diplomatic efforts to win over skeptical European leaders as part of the U.K.'s drive to push stalled Brexit talks forward from discussing divorce to the future of trade.
Brexit Secretary David Davis plans meetings in London and various European Union capitals with senior officials from Germany and elsewhere, amid concerns that some member states don't fully appreciate the scale of May's efforts or the progress of talks so far, a person familiar with the matter said.
At stake is how to unlock talks with seven weeks to go before a critical summit in December, at which May's hope is that leaders will agree to talk about the future. While Germany's Angela Merkel offered warm words, France's Emmanuel Macron was less encouraging as the impasse drags on.
Talks are hung up over how much money the U.K. will pay when it leaves, and May's administration has so far failed to respond to the EU's offer of at least two rounds of negotiations before the leaders gather on Dec. 14.
British officials regard France and Germany as the key member states to convince. The U.K. is desperate to persuade the EU to discuss the future free-trade agreement that May wants.
But first, May's team must satisfy leaders such as Merkel that "sufficient progress" has been made on settling the terms of the separation. On Tuesday, May's Cabinet will discuss Brexit planning at its regular weekly meeting.
All Outcomes
"They will be looking at Brexit preparations for all outcomes," May's spokesman, James Slack told, reporters in London. "Obviously that includes no deal, but as the prime minister has said, we are confident of getting a deal."
Last week, Davis and Foreign Secretary Boris Johnson traveled to Paris to meet French Foreign Minister Jean-Yves Le Drian. A French official close to the minister said that when Davis went to the dinner he offered nothing new. A second French official said there has been no contact with the British side since the Oct. 23 meal.
Johnson also met Portugal's foreign minister, Augusto Santos Silva, on Friday and appealed for help to break the deadlock in Brexit talks. Plans are being made for a similar outreach to Germany, as Merkel works to form a new coalition government, the person said, speaking on condition of anonymity because details are not yet public.
U.K. officials think Davis's counterpart, the EU's chief Brexit negotiator Michel Barnier, understands how much ground the talks have covered since they began in June. Despite this, the governments of countries such as France and Germany lag behind in appreciating the progress, the person familiar with the matter said.
Britain has until March 2019 to negotiate its withdrawal from the 28-member bloc and wants to start talking about the future relationship and a two-year transition period after the next summit gathering.
— With assistance by Helene Fouquet, and Alex Morales
Before it's here, it's on the Bloomberg Terminal.
LEARN MORE