Spain's Control of Catalan Cops Is Key to Putting Down Rebellion
By and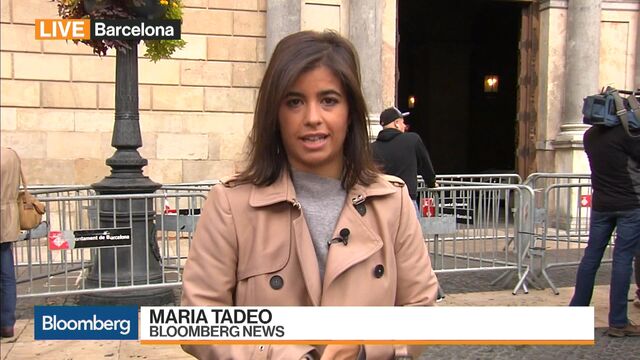 During the most difficult moments in Mariano Rajoy's struggle to bring Catalonia to heel, the regional police force, the Mossos d'Esquadra, was always at the scene of the crime.
When separatists demonstrators trapped Spanish Civil Guard officers inside the regional economy department in late September, the Mossos stood back and let the protest unfold. When campaigners set up illegal ballot boxes across the region on Oct. 1, the Mossos ignored court orders to shut down the referendum.

And when the rebel president, Carles Puigdemont, went to the regional legislature on Oct. 10 amid speculation that he would declare independence, armored officers from the Mossos sealed off access to the parliament building. Spanish police were stationed nearby, ready to arrest Puigdemont if the order came. The risk of a face-off between rival police forces, with unpredictable and frightening consequences, was clear.
As officials in Madrid plotted how to execute a takeover of the Catalan administration, the Mossos was among the biggest concerns. Scrutiny of their action was increasing. Last week the Civil Guard searched a Mossos barracks in Lleida, west of Barcelona, and downloaded data from the cellphones of three officers.
When the moment came, the Mossos bowed to the authority of Madrid without hesitation. The police chief was fired Saturday and Ferran Lopez, a serving officer, was promoted to lead the division in his place. The outgoing commander wrote to his officers asking them to follow the orders of his successor.
A police union official in Catalonia told Bloomberg the Mossos will abide by orders from Madrid, and there's no question of rebel forces forming. But there's disquiet about the way the situation has been handled, he said, declining to be named as the matter is sensitive.
On Monday morning, it was the Mossos who turned up to ask ousted government members to leave their offices when they tried to make out they were still operational. The new chief Lopez was in Madrid to meet his political master, the Spanish interior minister.
Before it's here, it's on the Bloomberg Terminal.
LEARN MORE