Senator Collins Approves This Message: Her Law Didn't Work
By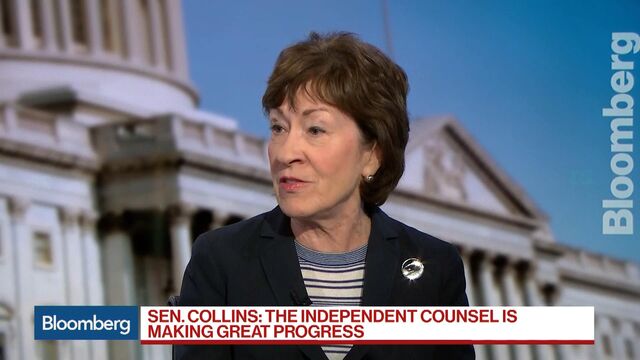 As social media executives prepare to testify to the Senate Intelligence Committee about Russian interference in last year's presidential election, one panel member says she'll set a high bar before backing more regulations for Facebook, Twitter and Google.
Senator Susan Collins, a Maine Republican, said she learned the hard way that sometimes ad rules don't have the intended effect. Years ago, she said, she and Democratic Senator Ron Wyden of Oregon cosponsored a law that requires candidates for federal office to say in their own ads that they approve the message.
The disclosures were intended to curb negative political ads, but "of course it did absolutely no good," Collins said at a roundtable discussion Monday with Bloomberg editors and reporters. "You can all have a laugh at my expense."
Because it's already illegal for foreign governments to buy political ads in the U.S., Collins said, she'll probably reserve her tough talk at Wednesday's hearing for executives of companies that should have known something was amiss in 2016.
"If someone is paying you in rubles to place a political ad or an ad that is intended to sow the seeds of discontent and discord, that ought to be a red flag," she said. "And I don't understand why that wasn't a big red flag."
"How much more of a tip-off do you need?" she added.
Before it's here, it's on the Bloomberg Terminal.
LEARN MORE