Qatar's Emir Defiant as Dispute With Saudi-led Bloc Drags On
By
Qatar won't shut down broadcaster Al Jazeera, emir says

Emir Tamim made comments in interview with broadcaster CBS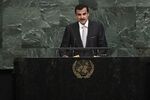 Qatar's emir, in a rare interview with Western media, said his country will not accept the demands of a Saudi-led bloc that has been boycotting it since June.
"Our sovereignty is a red line. We don't accept anybody interfering in our sovereignty,'' Sheikh Tamim bin Hamad Al Thani told CBS News' Charlie Rose in an interview aired Sunday on 60 Minutes.
There's been no progress toward resolving the dispute since Saudi Arabia, United Arab Emirates, Bahrain and Egypt severed diplomatic, trade and transport links with gas-rich Qatar on June 5, accusing it of destabilizing the region, charges it denies. The bloc presented Qatar with 13 conditions to restoring ties, including shutting down broadcaster Al Jazeera, which has irritated autocratic monarchs throughout the region, scaling back ties with Iran and severing relations with the Muslim Brotherhood.
Qatar rejected the demands and accused the bloc of trying to undermine its sovereignty. In the interview, Tamim said he believes the Saudi-led bloc is seeking a regime change in Qatar because of its independent streak.
Seeking Conformity
"They have been talking in the media that this regime should be suitable with its neighbors and they mean us being followers to them, not being independent," he said.
President Donald Trump proposed a meeting at Camp David to try to end the feud, but nothing has been scheduled, despite Qatar's eagerness to take part, the emir added.
Asked how the other countries responded, he replied: "It was supposed to be very soon, this meeting. But I don't have any response."
The Saudi-led bloc has also stood its ground in the spat, and on Sunday, Bahrain's foreign minister called for the suspension of Qatar's Gulf Cooperation Council membership.
"The right step to protect the GCC is to freeze Qatar's membership until it comes to its senses," Sheikh Khalid Bin Ahmed Al Khalifa wrote on Twitter.
It's not clear whether the three countries have enough support to do so, with Kuwait and Oman widely seen unlikely to follow suit. Resolutions on substantive matters require the unanimous approval of attending members, according to the GCC charter.
The U.A.E.'s top diplomat scoffed at the emir's interview.
"Nothing new" in 60 Minutes interview, Anwar Gargash, the U.A.E.'s minister of state for foreign affairs, wrote Monday on Twitter. "A state of victimhood and denial continues. A speech targeted to the West… Forgettable interview that won't bring about a solution."
Before it's here, it's on the Bloomberg Terminal.
LEARN MORE