PDVSA Says It's All Paid Up, But the Bond Market Thinks Otherwise
By
Dollar bonds trading at session lows on Monday afternoon

More than $500 million of interest payments still pending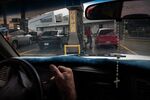 When Venezuela's state oil company blasted out a statement Friday about having begun to transfer $842 million to holders of its bonds due in 2020, it heralded the moment as a victory against capitalist interests and sanctions imposed by U.S. President Donald Trump.
PDVSA bonds rose on the expectation that come Monday, creditors would be receiving the funds in their accounts and that an even bigger payment due Nov. 2 would now surely be made despite more than $500 million worth of past-due interest payments continuing to pile up.
Monday afternoon, the mood has become more somber with no sign of the funds, no word from the notes' trustee and no further communiques from PDVSA.

Here's a breakdown of the payments that are pending.
Quotes from this Article
Before it's here, it's on the Bloomberg Terminal.
LEARN MORE