Israel Kills 7 Palestinian Militants as Gaza Tunnel Destroyed
By
Islamic Jihad members were digging attack tunnel, Israel says

Israel detected construction with newly designed technology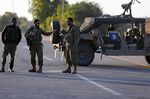 Israeli forces destroyed a tunnel that Palestinians dug underneath the Gaza Strip's border, killing at least seven militants, according to Israeli and Palestinian officials.
Israel said Palestinians planned to use the tunnel to attack its residents on the other side, as they did in 2014 during a 50-day military conflict. The army earlier detected the subterranean construction activity with new technological means and chose an opportune time to destroy it, Israeli military spokesman Lt. Col. Jonathan Conricus said.
At least seven Palestinians were killed when the 2-kilometer tunnel was destroyed, and 10 were injured, said Ashraf al-Qedra, a spokesman for the Gaza health ministry. Most belonged to Islamic Jihad, one of several groups in Gaza that are classified as terrorist organizations by the U.S. and European Union.
Islamic Jihad will respond to the Israeli action "at the right moment," spokesman Dawood Shihab told reporters in Gaza. Israel has blamed Hamas, the militant organization that has ruled the territory for the past 10 years, for all cross-border attacks.
Hamas agreed last month to let the Palestinian Authority take control of governing Gaza but has resisted demands that it disband the group's militias that are dedicated to attacking Israel and surrender their weapons.
Before it's here, it's on the Bloomberg Terminal.
LEARN MORE