German Parties Seek Fiber-Optic Push for Merkel's Fourth Term
By and
Negotiators set goal of 'gigabit' internet coverage by 2025

Financing of broadband push needs further discussion, FDP says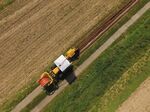 Four German parties exploring coalition options for Chancellor Angela Merkel's next government agreed to rely on modernized land-line networks and mobile technology to boost the country's digital competitiveness.
"The focus is, of course, on expanding a fiber-optic network, but also on rolling out 5G technology and, particularly important for rural areas, we must close the existing radio gaps in the coming years," Peter Tauber, general secretary of Merkel's Christian Democratic Union, told reporters in Berlin on Monday after the latest round of talks.
The pro-market Free Democrats, one of the potential coalition partners, said the goal would be for Europe's biggest economy to have nationwide coverage with so-called gigabit broadband by 2025. How to finance the digital push isn't agreed yet, said Nicola Beer, the FDP's general secretary.
How Do You Sell Really Fast Wireless if It's Already Really Fast?
Merkel's Christian Democratic-led bloc won Germany's election on Sept. 24 with the lowest share of the vote since 1949, prompting her to consider a coalition with the Greens and Free Democrats that's never been tried at the national level. The parties are holding exploratory talks on everything from immigration and education to energy and foreign policy, a prelude to possible negotiations on a coalition pact in November.
Monday's meeting on digital issues, education and research could form the core of a "modernization agenda" for Germany, Beer said. The FDP and the Greens both back the sale of the government's stake in Deutsche Telekom AG to finance the expansion of high-speed internet.
Before it's here, it's on the Bloomberg Terminal.
LEARN MORE