Five Things You Need to Know to Start Your Day
Get caught up on what's moving markets in Asia.
By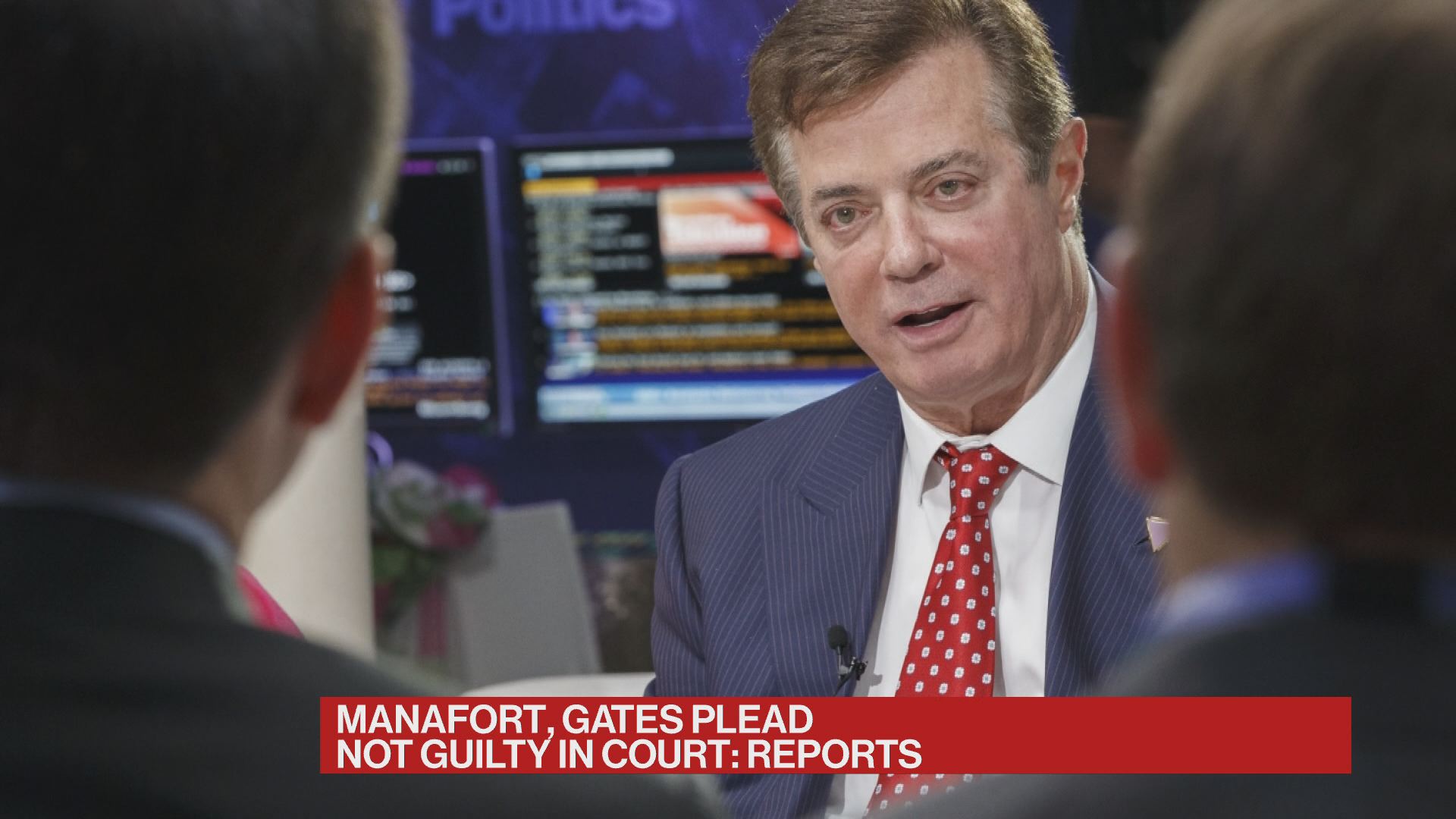 Want to receive this post in your inbox every morning? Sign up here.
Probe into Russia-Trump collusion bears fruit, Bank of Japan on deck, and a huge day of economic data. Here are some of the things people in markets are talking about.
Russia Probe
U.S. authorities charged three people with crimes on Monday as part of the federal investigation into whether U.S. President Donald Trump's election campaign colluded with Russia in an effort to win. Among those charged was Paul Manafort, the president's former campaign chief, who stands accused of money laundering and conspiracy. Manafort was put under house arrest because he is seen as a flight risk after pleading not guilty. Special Counsel Robert Mueller's team also revealed that George Papadopoulos, a foreign policy adviser on Trump's campaign, pleaded guilty to lying about his contact with Russian officials on Oct. 5 and is now cooperating with the investigation. Papadopoulos corresponded with a professor who promised "dirt" on Democratic candidate Hillary Clinton and sought to arrange a meeting between Trump's campaign and Russian officials. The president erroneously claimed that the indictment of Manafort was solely related to events that predated his involvement with the campaign. Trump's administration has sought to distance itself from Manafort and his associate Rick Gates, though they were reportedly essential to Trump's victory. Meanwhile, the New York Times reports that the president appears "set" on picking Jerome Powell to lead the U.S. central bank, on the back of earlier Bloomberg reports that the current Fed governor was the front-runner for the job. A formal announcement is expected on Thursday.
Inflation Still M.I.A.
The Bank of Japan is universally expected to keep policy unchanged in its interest date decision on Tuesday, which will be followed by a news conference with Governor Haruhiko Kuroda. Price pressures have failed to accelerate recently, lending support to the view that the central bank will cut its inflation forecasts at this meeting. Any hints about Kuroda's future at the central bank will be closely watched by investors, as his term expires in April. Economists surveyed by Bloomberg expect the governor to be reappointed. Even if he isn't, the policy of yield curve control is likely to live on.
But Wait, There's More
There's no shortage of economic events coming in the Asia Pacific region on Tuesday. China's official manufacturing and non-manufacturing purchasing managers' indexes for October headline the day's releases. The former is expected to moderate to 52 from a five-year high of 52.4 in its previous print. It's jobs day in Japan, with the unemployment rate forecast to hold steady at 2.8 percent in September. The rate of annual household spending growth is also projected to remain unchanged, at 0.6 percent in September, while industrial production dips 1.6 percent month-on-month. Macau's hotel occupancy rate for September, Australian private sector credit growth and new home sales for September, Taiwan's preliminary third-quarter growth figures, and Thailand's September trade balance are also on deck.
Fazed by Tax Phase-In
The S&P 500 Index and Dow Jones Industrial Average retreated to start the week, with the Nasdaq Composite Index trading sideways. Investors weren't pleased by the news that the authors of the GOP tax plan are mulling a gradual reduction of the corporate tax rate. Small caps and a basket of high-taxed U.S. companies compiled by Goldman Sachs underperformed on Monday. The Bloomberg Dollar Spot Index and 10-year U.S. Treasury yields also declined. Brent crude rose to a two-year high as confidence in extended supply curbs mounted.
Futures Mixed
Nikkei 225 futures are trading to the downside while S&P/ASX 200 futures are unchanged ahead of the open on Tuesday. Risk-on sentiment lingered following the strong U.S. session on Friday, fueling gains in Asian technology shares on Monday. China's bond market will continue to attract investors' attention. Concerns about a deleveraging push fostered a sharp rise in the country's 10-year yield, spurring the biggest drop in domestic equities since early August.
What we've been reading
This is what caught our eye over the last 24 hours.
Before it's here, it's on the Bloomberg Terminal.
LEARN MORE