business
Graceland Taps Municipal Market for Renovation and Expansion
By
Issue refunds deal sold to replace 'Heartbreak Hotel'

Graceland plans to borrow $88 mln in third trip to muni market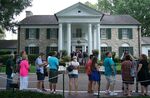 It's an estate fit for a king. The King of Rock and Roll, to be more specific. Graceland, Memphis's premier tourist attraction, which draws more than half a million visitors a year, plans to borrow $88 million in the municipal market with a negotiated deal scheduled to price on Wednesday.
This is actually the King's third trip to the municipal market. The new deal refunds $84 million in notes sold through private placement in 2015. In 2016, the issuer sold another $40 million in notes. The conduit issuer is known as the Economic Development Growth Engine Industrial Development Board of the City of Memphis and the County of Shelby, Tennessee.
And there will be more visits to MuniLand, according to Joel Weinshanker, managing partner of Graceland Holdings LLC, the majority owner of Elvis Presley Enterprises Inc., which manages the 120-acre Graceland campus. The company aims to transform Graceland from an attraction to visit to a vacation destination. (Elvis's only child, Lisa Marie Presley, own 15 percent of all Graceland-related entities).
That transformation is well underway. The home of Elvis Presley (1935-1977) is a National Historic Landmark that opened to the public in 1982. In 2014, Elvis Presley Enterprises developed a master plan for a public-private partnership with the city, county and state for the redevelopment of Graceland, which now includes an archive studio, a 450-room "Guest House at Graceland Hotel" (which opened in 2016 and replaced the 128-room "Heartbreak Hotel" built in 1989), a museum, retail facilities and a recreational-vehicle and campground park.
The key to tourist attraction bonds is attendance. Over the last 12 years, an average of 540,000 visitors have come to Graceland annually. Tickets prices range from $38.75 for an adult to tour the mansion to $159 for the "Ultimate VIP Tour" which includes an expert guide, access to Elvis's custom jets "Lisa Marie" and "Hound Dog II" and full access to the museum and entertainment complex, according to Graceland's website. Total revenue for Elvis Presley Enterprises was $42.4 million in 2016, bond documents say.
Under Risk Factors, the borrower states that its ability to generate sufficient revenue to repay its obligations "is dependent on the continued interest from tourists who visit Memphis to experience the life, legacy and music of Elvis."
This week's sale will consist of three series. The Senior Tax Increment Revenue Series B bonds are subject to federal income taxes and rated BBB with a stable outlook by Standard & Poor's Global Ratings. The Series A (tax-exempt) and C (taxable) bonds are unrated, and being sold in minimum denominations of $100,000. The deal is being managed by KeyBanc Capital Markets.
Before it's here, it's on the Bloomberg Terminal.
LEARN MORE