Deutsche Bank CEO Laments Bonus Rule as European Banks Trail
By and
Says rule requiring deferral of some bonuses a 'disadvantage'

CEO John Cryan previously criticized bankers' compensation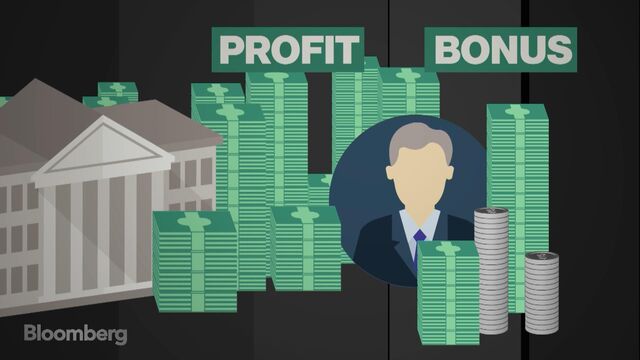 Need another reason why European banks can't compete with their U.S. peers? Just ask John Cryan.
The chief executive officer of Deutsche Bank AG told analysts that a new directive requiring European banks to defer the lion's share of bonuses for top-paid staff is making it difficult to attract talent. He suggested the rules helped sway management to pursue a partial listing of the bank's asset management division, because stand-alone investment firms won't be affected.

It's a "competitive disadvantage," Cryan said on a call Thursday, where he presented the Frankfurt-based bank's third-quarter earnings, including a 30 percent decline in trading revenue, twice as much as the drop at Wall Street peers.
An outspoken critic of bankers' pay when he took on the top role at Deutsche Bank in 2015, Cryan is changing his tone as Germany's largest lender scrambles to attract talent after the steepest bonus cuts in its recent history. Revenue has fallen in all but two quarters under the CEO, who has eliminated thousands of jobs, reduced risky trading and settled legacy misconduct cases. With investors pushing for the bank to restore top-line growth, Cryan has said the bank will return to its normal compensation policy this year.
To read more about investor pressure on Cryan, click here.
The new directive, which took effect in Germany in August and is being implemented across the European Union, requires banks domiciled in the bloc to defer bonuses for employees worldwide. For a German bank, the rules mean some new hires need to stay for half a decade before they see the full reward for their work. Lenders in the U.S. faced a similar proposal under the Dodd-Frank act, but it was never put into practice.
The "requirement to defer bonuses for so long clearly puts banks at a disadvantage when hiring talent," said Florian Frank, a director at Willis Towers Watson, an HR consultancy. "That said, not all banks are keen to hire employees whose only concern is to get the highest bonus, and fast."
'Entrepreneurial Wages'
Deutsche Bank has hired 19 managing directors for its corporate finance and global capital markets Americas units this year, the lender said in a statement in September.
Bonus deferrals have sometimes come up in conversations with potential new hires, and have occasionally been a reason for candidates not to pursue a job at the bank, according to a person familiar with the matter, who asked not to be identified in disclosing non-public information.
Christian Streckert, a spokesman for Deutsche Bank, declined to comment.
The lender in February announced that it would slash its bonus pool for 2016 by 80 percent, the steepest cut in its recent history. In 2015, the year he took over, Cryan complained that bankers still earned too much money and were often promised rewards too quickly.
"Many people in the sector still believe they should be paid entrepreneurial wages for turning up to work with a regular salary, a pension and probably a health-care scheme and playing with other people's money," Cryan said at the time. "There doesn't seem to be anything entrepreneurial about that except the compensation structures."
— With assistance by Alicia Ritcey
Before it's here, it's on the Bloomberg Terminal.
LEARN MORE