Big Four China Banks Post Double-Digit Gains in Loan Income
Bloomberg News
Quarterly results mostly reflect better margins, asset quality

Shares have rallied this year amid optimism over earnings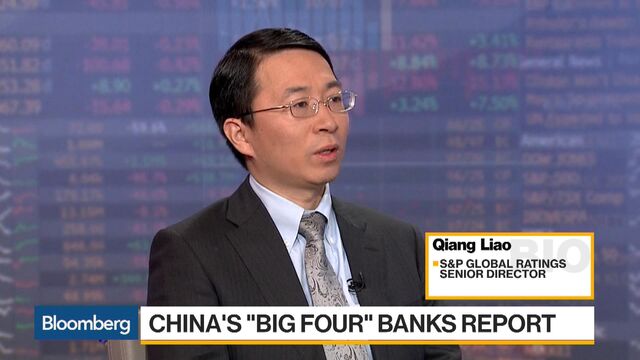 China's largest banks posted double-digit increases in lending income in the third quarter, validating some of the earnings optimism that has fueled a rally in their shares this year.
Industrial & Commercial Bank of China Ltd., Bank of China Ltd. and Agricultural Bank of China Ltd. on Monday reported average net interest income gains of 15 percent. The figures come after China Construction Bank Corp. reported a 10 percent rise last week.

For the most part, the four banks' results reflected improvements in interest margins and asset quality, though Bank of China's figures were marred by a jump in impairment losses. Its shares slumped 3 percent in Hong Kong, the most in two months, as of 10:24 a.m. local time, while ICBC dropped 1.7 percent and CCB lost 0.8 percent. AgBank gained 0.5 percent.
"People are selling shares after a recent rally of Chinese banks," said Marco Yau, a senior analyst at CEB International Investment Corp. "Investors have been expecting an improvement in asset quality and a rebound in margins since the beginning of the year and that has supported the momentum."
This year's rally drove the Big Four bank's average price-to-book ratio to the highest level since late 2015.
The lenders have benefited from some of the government efforts since April to curtail risks from China's almost $30 trillion of debt. As authorities moved to increase policy coordination among the country's regulators, they also sought to curb interbank borrowings -- a step that has boosted margins at the big banks as net lenders into that market.
Read more: A QuickTake on how China is getting serious about financial risk
ICBC, the world's largest lender by assets, said its net interest margin rose to 2.17 percent by the end of September, compared with 2.16 percent in the first half, while Bank of China and CCB also reported increases. Agricultural Bank didn't disclose its latest NIM, which is a measure of lending profitability.
A growing appetite for mortgages and infrastructure loans is helping drive lending income at the major banks, for now at least, said Chen Shujin, a Hong Kong-based analyst at Huatai Securities Co.
"Loan demand is very strong," Chen said. "But overall loan growth will slow next year. Unlike in many other countries, China's loan growth largely depends on supply. And the PBOC wants to lower leverage," she said, referring to the People's Bank of China.

Here are the headline third-quarter numbers reported by the Big Four:
"This quarter represents the banks' efforts to boost results to complete full-year targets," said Hao Hong, chief strategist and head of research at Bocom International Holdings Co. in Hong Kong. "Banks are loosening credit, despite all the talk about deleveraging."
Bank of China's impairment losses in the third quarter jumped 63 percent to 22.8 billion yuan, eroding most of the gains the bank generated in lending income. And for the first nine months of the year, Bank of China's nonperforming loan ratio was 1.41 percent, edging up from 1.38 percent on June 30.
The other banks logged lower NPL ratios.

After three years of virtually flat profits, earnings momentum at the banks should pick up from the third quarter onwards, Credit Suisse analysts said in an Oct. 24 report. Industry net interest margins should increase in the second half of 2017, analysts at Goldman Sachs Group Inc. and Huatai Securities Co. have said.
— With assistance by Alfred Liu, and Angus Whitley
Before it's here, it's on the Bloomberg Terminal.
LEARN MORE