Catalonia's Independence Movement Unravels as Rajoy Prevails
By and
Puigdemont is due to speak at 12:30 p.m. in Brussels, TV3 Says

Madrid cements control of Catalonia's government and police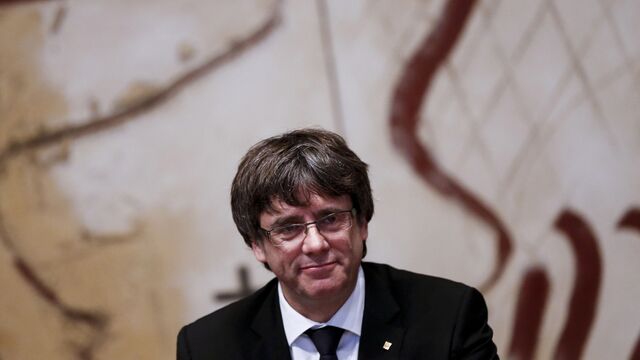 Catalan leader Carles Puigdemont kept his followers guessing as to the next step in his pursuit of an independent republic, after fleeing to Belgium where he's expected to emerge on Tuesday.
As Spain consolidated its grip on Catalonia's once semi-autonomous government, Catalan separatists were left leaderless after Puigdemont fled without even telling senior members of his party of his plans, according to a party official. Facing the threat of up to 30 years in a Spanish jail, he is expected to seek asylum in Belgium along with key members of the ousted administration, the official said.
Prime Minister Mariano Rajoy has won the power struggle with Puigdemont, but Spain's establishment now has to figure out how to heal divisions that deepened dramatically over the last decade. It's in Spain's interests as much as Catalonia's to mend the damage to the northeastern region's economy, the powerhouse of Spain that accounts for a fifth of the country's output.

The first step is an election on Dec. 21, called by Rajoy and considered illegitimate by the pro-independence faction. The two main separatist parties will take part -- a decision Puigdemont's party made without him -- after weighing up the option of boycotting it in protest. The grassroots Catalan National Assembly will also campaign in the election, it said on Tuesday, aiming to use the ballot to further their cause.
Read more: A Guide to Seeking Asylum in Belgium
Puigdemont will form a government in exile, according to the party official, a move aimed at keeping alive hopes of independence among the grassroots while others stay behind to fight the election. A poll on Monday showed just 34 percent backed independence, even as 76 percent want an official referendum on Catalonia's status to be allowed.
Puigdemont -- who long said he was prepared to go to jail for the cause of independence -- is being represented by Belgian human rights lawyer, Paul Bekaert. Bekaert is best known in Spain for defending terrorists of the outlawed Basque separatist group ETA.
Just four days after the Catalan parliament declared independence, life continued as usual in Barcelona. The Spanish government met little resistance on Monday as its officials took charge, and the Catalan police force -- a key potential tool in the struggle for independence -- passed peacefully to Madrid's control. 
Companies kept a low profile even as stocks surged on hopes that the conflict was over. More than 1,000 companies moved their headquarters out of the region fearing the havoc that an independence push would wreak.

Rajoy has come out on top after biding his time and seeking allies in Madrid for his counter-attack on Puigdemont -- recovering from an initial wave of international criticism after images of police officers beating voters went around the world.
Puigdemont meanwhile squandered the momentum built up by the illegal referendum on Oct. 1. He missed his first opportunity to declare independence. Then, after passing the baton to parliament to do it, the leadership melted away at the weekend, leaving supporters baffled.
That made way for pro-unity forces to take the initiative. Hundreds of thousands of unionist demonstrators flooded the streets of Barcelona as rebel leaders stayed home.
"It's really astonishing seeing Puigdemont heading to Brussels, showing minimal signs of resistance," said Pablo Simon, a political science professor at Carlos III University in Madrid. "Rajoy broke the pro-independence camp's strategy, and now they are forced to pick candidates and rebuild a narrative in a short period of time -- just as the pro-constitution camp is more mobilized than ever before."
Read more: How Catalonia's Bloody Breakaway Bid Divides Spain
Grassroots activists who drove the push for independence feel betrayed by their political leaders, according to a member of the organization known as the Catalan National Assembly who declined to be named.

Members of the movement who were being told until Friday to keep up pressure and defend the republic were disappointed that the regional government's ousted leaders did little over the weekend to stake their claim. Unless Puigdemont "pulls a rabbit of the hat" it will be hard to revive the movement, the ANC member said.
"A new republic has been proclaimed on Friday but today what happens?" said Jordi Pairo, a member of the Catalan National Assembly.
— With assistance by Maria Tadeo, Ben Sills, and Rodrigo Orihuela
Before it's here, it's on the Bloomberg Terminal.
LEARN MORE