BOJ Decision Guide: Eyes on the Dissenter, Outlook for Prices
By
Economists forecast central bank will keep stimulus unchanged

Weak inflation means BOJ may trim CPI projection for FY2017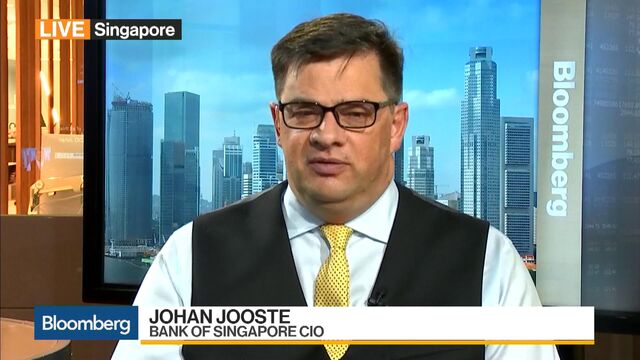 The Bank of Japan is expected to stick with its aggressive monetary easing Tuesday, even as it is said to be considering lowering the forecast for inflation this year.
Key points
| What to look for | The reason it's important |
| --- | --- |
| | Many economists say the BOJ has to cut its price outlook for this fiscal year and the bank's board is considering this, according to people familiar with its discussions. |
| Comments by Governor Haruhiko Kuroda on ETF purchases | With the Nikkei 225 Stock Average up 8 percent in October alone, the central bank has radically scaled back on buying ETFs. At this rate, it won't meet its annual target so any comment on this will be closely watched. |
| Any proposals from board member Goushi Kataoka | At Kataoka's first policy meeting he immediately dissented, saying that the BOJ was unlikely to reach its 2 percent inflation target as forecast. |
None of 43 economists surveyed by Bloomberg expect a change at this meeting, and all but one of them think the board won't adjust policy before Governor Haruhiko Kuroda's term ends in April next year. Most of them think that when change does come, the next step will be to tighten policy.
"There is no reason for the BOJ to move now," said Norio Miyagawa, a senior economist at Mizuho Securities. "The economy is doing great. The BOJ can keep saying inflation is gathering momentum."
Click here to read the full results of Bloomberg's BOJ survey.
Inflation outlook
The gap between the BOJ's forecast for inflation and the actual result hasn't narrowed substantially. The bank is said to be considering lowering its forecast for a 1.1 percent rise in core consumer prices this fiscal year. The projection is almost twice as high as private economists expect. If the BOJ does trim the forecast, it's likely to reinforce the view that the it has to continue with the current stimulus program well into the foreseeable future.

New Voice

Kataoka surprised BOJ watchers by voting against the bank's main policies last month at his first meeting, indicating that he didn't think they were sufficient to reach 2 percent inflation in "around fiscal 2019," as the targeted currently. If Kataoka does make any specific proposals, he could become an obstacle to any future moves toward normalization, according to Ryutaro Kono, chief Japan economist at BNP Paribas SA.
Whether there will be a policy proposal is "the key focal point for us," Naohiko Baba, chief Japan economist at Goldman Sachs Group Inc. wrote in a report on Oct. 24.
ETF Purchases
The stated aim of the bank's purchases of exchange-traded funds is to reduce risk premiums for investors, but the recent rise of the Nikkei 225 to a 21-year high has left economists asking if that's necessary. Kuroda has said the ETF buys are part of the stimulus package aimed at reaching the price target, but any indication of whether the bank is still aiming to purchase 6 trillion yen ($52 billion) worth of funds annually will be closely watched.
The BOJ typically releases a policy statement and the economic outlook report around lunchtime in Tokyo. Kuroda's briefing starts at 3:30 p.m.
Policy Recap
Key elements of the BOJ's monetary stimulus policy, which are expected to remain unchanged on Tuesday:
Negative interest rate of minus 0.1 percent on some of the money financial institutions keep at the BOJ.
Keeping the 10-year bond yield at about 0 percent.
Buying JGBs to increase its holdings by about 80 trillion yen a year.
Purchasing ETFs so holdings rise by 6 trillion yen a year, and buying JREITs to raise holdings by 90 billion yen.
Maintain amounts outstanding of commercial paper at about 2.2 trillion yen and corporate bond at about 3.2 trillion yen.
Before it's here, it's on the Bloomberg Terminal.
LEARN MORE