Somalia Twin Car Bombing Kills 26 People in Nation's Capital
By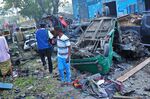 At least 26 people were killed on Saturday when al-Shabaab militants detonated two car bombs in Mogadishu, according to police in the capital of the horn of Africa nation.
Somalia President Mohamed Abdullahi Farmajo was expected to hold a meeting with feuding politicians at Nasahablod Hotel where the first car bomb exploded, while the second blast occurred near the country's former parliament building, which is not far from the hotel, Ahmed Mohamed, a police officer at the scene of the blast said. The second explosion was aimed at killing first responders, including the police and the military, he said.
"There are a number of dead and wounded but there are also other people who are under the rubble because the blast demolished buildings in the area and rescue workers are now very busy saving many people who are trapped," Abdiqani Nur, a paramedic, said at the site of the attack.
Somalia's army, with the backing of an African Union force and increased U.S. support, is trying to quash al-Shabaab, an al-Qaeda-linked Islamist-militant group, that has waged a decade-long war to impose its version of Islamic law in Somalia.
While the group was driven out of Mogadishu in 2011, it still stages regular gun and bomb attacks and on Oct. 14 a truck-bomb blast resulted in more than 300 deaths, the the nation's deadliest single attack.
Somalia security forces ended a siege by the attackers after killing three of them and capturing others alive, Ministry of Internal Security spokesman Abdul Aziz Hildhiban said at the site of the attack.
Before it's here, it's on the Bloomberg Terminal.
LEARN MORE