Qatar Eases Bank Laws for Expats With Expired Visas Amid Boycott
By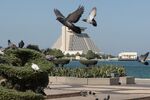 Qatar's central bank is easing its banking rules for expatriates, as it grapples with a regional economic boycott about to enter its sixth month.
The regulator ordered lenders to allow foreign workers to conduct normal banking transactions for 90 days after the expiry date of their visa, according to a statement posted on its website Sunday. The rule change is in line with an existing policy allowing expatriates to stay for three months from the end of a residency permit.
The law "aims to facilitate the transactions of residents in the State of Qatar and to ensure the proper functioning of their financial affairs," the central bank said in the statement. Qatar's banks, like others in the six-nation Gulf Cooperation Council, have typically blocked expat accounts once residency is canceled or expires to ensure debts are settled before they leave the country.
Sunday's order follows landmark legislation in August granting permanent residency to some of the foreigners who dominate Qatar's population. The policy, a first in the Gulf, elevates the status of foreigners in a region where the privileges of nationals have been zealously guarded and expatriates' access to public services and property rights are sharply curtailed.
A Saudi Arabia-led bloc severed diplomatic and transport links with gas-rich Qatar in early June, accusing it of destabilizing the region through its ties to Islamist extremists and Iran -- charges the nation of 2.7 million people has repeatedly denied. Qatar's imports and foreign deposits have dropped since the boycott.
Before it's here, it's on the Bloomberg Terminal.
LEARN MORE