Scandal-Hit Kobe Steel's Profit Forecast Is in Question
By and
Shares have lost a third of their value in past three weeks

Bond risk recedes after most clients say products are safe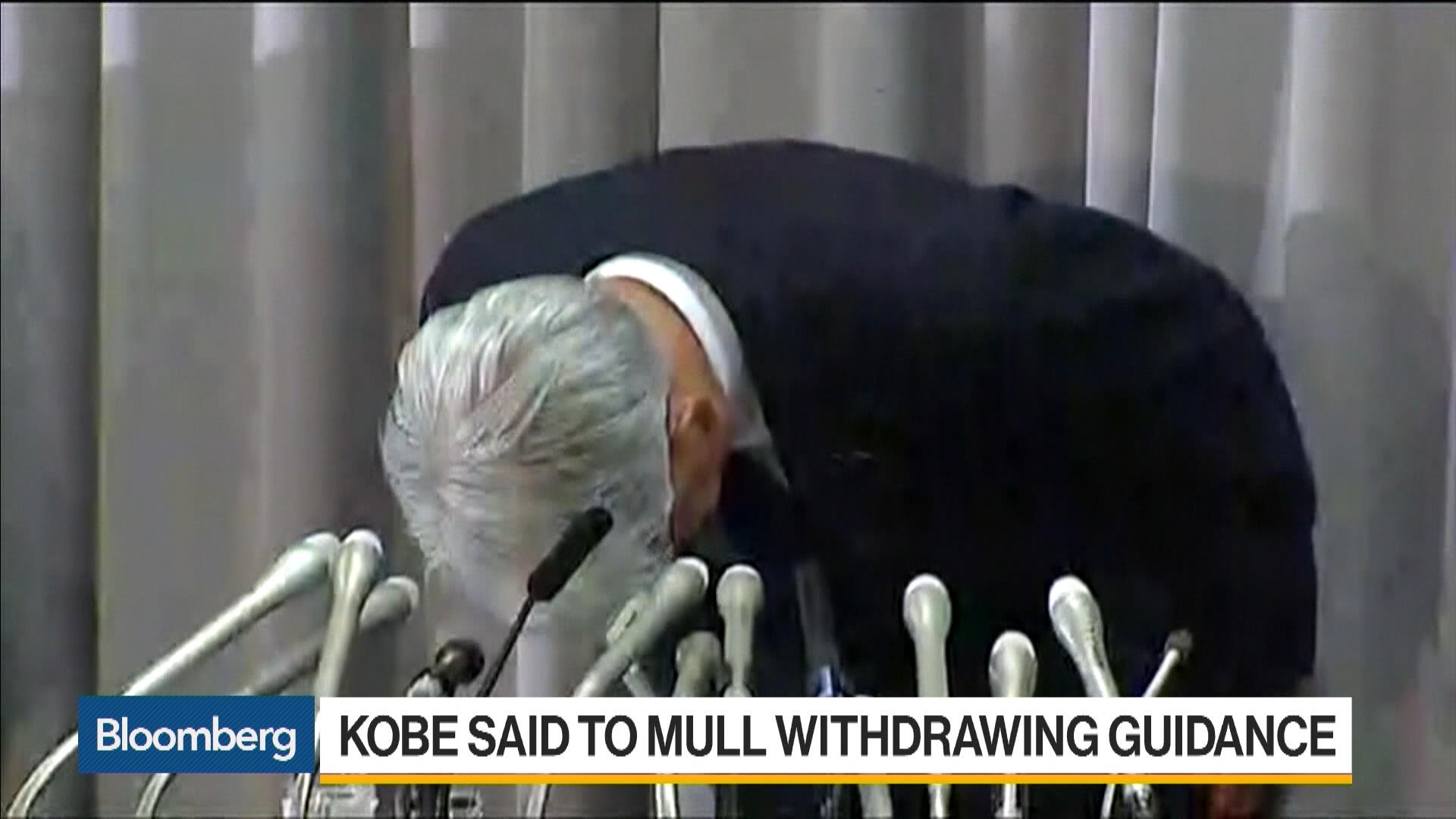 Kobe Steel Ltd.'s second-quarter results on Monday will take a back seat to investors' bigger concern: Will Japan's third-largest steelmaker pull its earnings forecast and acknowledge it can't predict how a widening fake-data scandal will affect prospects.
Uncertainty created by employees falsifying product data prompted Kobe Steel to consider withdrawing the guidance, a company executive with knowledge of the situation said last week. The company's board decided to abandon its outlook for net income and won't pay an interim dividend, the Nikkei reported on Monday. A spokesman declined to comment on the report.
"It is incredibly difficult to make a forecast," said Alexander Robert Medd, managing director of Bucephalus Research Partnership Ltd. "They have no idea what their one-off costs are going to be until customers have decided if they're going to sue them or what their level of complaint will be. They are presumably only partially through a thorough review."
Kobe Steel Scam Hits Planes, Trains, Automobiles: QuickTake Q&A
While most of the 525 companies affected didn't find any safety problems created by data falsification, the manufacturer has said it will help pay for related costs. Kobe Steel also lost Japanese Industrial Standards certification at one of its factories in Kanagawa and others are at risk as the government expands its inspections.
It isn't just the steelmaker that's having trouble figuring out how the crisis will affect its bottom line. Mitsubishi UFJ Morgan Stanley Securities Co. withdrew its rating on the stock soon after the scandal broke.
Business units implicated in the crisis include the iron and steel, copper and aluminum, and machinery departments, which account for more than half the company's revenue. Over the past two weeks, Kobe Steel announced it had faked data for other products, ranging from steel wires and materials used in DVDs and LCD screens to machinery parts and heavy-plated metal.
Customers including Kawasaki Heavy Industries Ltd. have said they might seek reimbursement from Kobe Steel if their customers start asking for replacement products or compensation.

Kobe Steel said it will use an external investigation committee to get to the bottom of what happened. While many of the falsification problems occurred in Kobe's facilities in Japan, data fudging for products in Thailand and Malaysia was also uncovered.
"I think the market consensus is that no forecast will be released," said Hidetoshi Ohashi, chief credit strategist at Mizuho Securities. "It should be fine for the company to wait until after the full results of investigations by its clients become available, it finishes re-examining every corner of itself from compliance perspective and a committee of outside experts announces its findings.''

Shares of Kobe Steel plunged more than 40 percent in the week after its initial mea culpa on Oct. 8, wiping out $1.8 billion of market value. The stock price has rebounded since the initial selloff.
Kobe Steel's bond risk rose to the highest since December 2012 earlier this month. It dropped to the lowest in about two weeks Thursday after the company said roughly 80 percent of its clients have confirmed the safety of its products and that none have begun recalling or stopped using them.
Japan Credit Rating Agency Ltd. may lower its rating on Kobe Steel if the manufacturer says the scandal will deal a heavy blow to its bottom line and capital, according to Masayoshi Mizukawa, chief analyst at JCR. The rating company put the firm's A grade on monitoring for a possible downgrade earlier this month. A move is possible if the independent commission raises questions about Kobe Steel's ability to govern itself, or if the manufacturer's customers start to demand large compensation payments, Mizukawa said.
JCR expects Kobe Steel will refrain from making a forecast about full-year earnings Monday because it probably needs more time to assess the scope and the financial impact of the scandal, he said.
— With assistance by Ken McCallum, and Takashi Nakamichi
Before it's here, it's on the Bloomberg Terminal.
LEARN MORE