Japan Retail Sales Rise for 11th Consecutive Month
By
Spending at shops rose for an 11th month in September

Demand from inbound tourism supported department store sales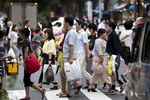 Japanese spent more at retail stores last month, but that may not have been enough to cause a seventh-straight quarter of private consumption growth.
Highlights
Retail sales rose 2.2 percent in September from a year earlier (forecast +2.3%)
Sales climbed 0.8 percent from August (forecast +0.8%)
Sales at department stores and supermarkets rose 1.9 percent from a year earlier (forecast +1.5%)
Key Takeaways
The latest data come as the Bank of Japan begins a two-day policy meeting. Though private consumption has been a driver for economic expansion, wage growth has been weak, hurting the central bank's quest to generate 2 percent inflation and a self-sustaining economic recovery. At its last meeting, the BOJ cautioned that the growth in domestic demand would "likely remain moderate."

Economist Views
"If you look at personal consumption overall, we should see a decrease in the third quarter," said Hiroaki Muto, chief economist at Tokai Tokyo Research Center. "That's partly a rebound from the strong numbers in the second quarter, but also because wages aren't increasing."
"I think consumption will become something of a brake on the third-quarter numbers," he said.
Private consumption probably fell 0.3 percent in the third quarter from the April-June period, according to Marcel Thieliant, senior Japan economist at Capital Economics in Singapore. "This is not necessarily a disaster," he wrote, forecasting that spending would expand by just over 1 percent both this year and next.
"Overall, household earnings haven't been growing much," said Yuichi Kodama, chief economist at Meiji Yasuda Life Insurance Co. "Under those circumstances, consumer spending lacks momentum."
— With assistance by Isaac Aquino, and Yuko Takeo
Before it's here, it's on the Bloomberg Terminal.
LEARN MORE