Five Things You Need to Know to Start Your Day
Get caught up on what's moving markets in Asia.
By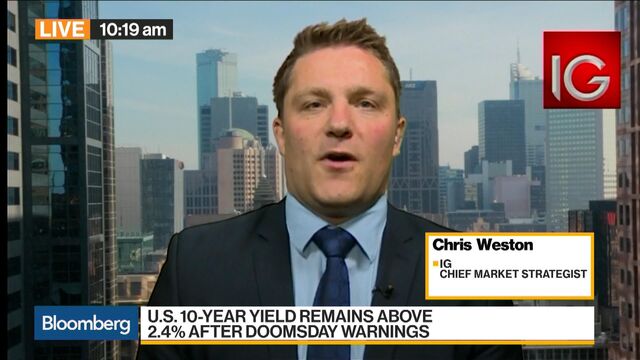 Want to receive this post in your inbox every morning? Sign up here.
Duterte urges U.S. dialogue with North Korea, Trump to announce Fed pick, and Catalonia's moment of truth. Here are some of the things people in markets are talking about.
Time for Talk
Philippine President Rodrigo Duterte is calling for an end to threats and the beginning of dialogue between the U.S. and North Korea in a bid to defuse tensions. The U.S., Japan, China, and South Korea should assure Kim Jong Un that he won't be deposed, Duterte said ahead of a meeting with Trump next month. North Korea has been fairly quiet as of late, with no reported missile launches or nuclear tests for over a month. The South China Morning Post reports that Chinese authorities have warned their North Korean counterparts that additional nuclear tests could cause an implosion at its mountainous test site, with potentially catastrophic consequences. The stakes are high: the death toll on the peninsula could eclipse 300,000 even in the event of non-nuclear war, according to the Congressional Research Service. The U.S. Navy has three aircraft carriers operating in or being deployed to the area for the first time since 2011, part of a military build-up in the region that's purportedly part of a planned cycle. 
Fed Head
Sometime this week, President Donald Trump will unveil his pick to lead the Federal Reserve. He's rumored to be leaning towards current Fed Governor Jerome Powell. Whoever takes over may be forced to reverse the current course of policy normalization during their term: markets suggest the amount of Fed tightening priced in over the next year is more than will come in the four years following that. The Fed, for its part, meets this week to deliver an interest rate decision amid a heavy slate of data. Third-quarter GDP figures released Friday showed the U.S. economy strung together its best two quarters in three years. Though 10-year Treasury yields sank in the wake of the better-than-expected growth figures, they still managed to end the week above the important technical level of 2.4 percent for the first time since March.
Spanish Heat 
Catalonia's government is refusing to take their dismissal lying down – despite thousands gathering for pro-unity demonstrations in Barcelona on Sunday. Lawmakers in the region declared independence on Oct. 27. Spanish Prime Minister Mariano dissolving Catalan's Parliament and calling regional elections to be held Dec. 21. Catalan leader Carles Puigdemont has advocated for peaceful resistance against Madrid in the wake of Rajoy's move; rebellion charges may be brought against the former regional president. Spain's foreign minister said Puigdemont is now out of a job "no matter what he says" – leaving open the possibility that he could run in the upcoming election if he isn't in jail by then. The new chief of Catalonia's police force accepted the rule of Spain, an early victory for Rajoy. More will be put to the test on Monday, when civil servants will decide whether or not to obey the newly installed regional authorities. Spanish third-quarter growth data out on Monday morning is projected to show the rate of expansion moderated a tick to 0.8 percent quarter-on-quarter – a period that ended right before Catalonia's illegal independence referendum.
Coming Up...
Japanese retail sales are Monday's lone economic release of note in the region, forecast to bounce back with a 0.8 percent advance month-on-month in September on the heels of a 1.6 percent decline in the prior print. Later in the week, China PMIs, Japanese industrial output and CPI readings from South Korea, Indonesia and Thailand are among the Asian economic data highlights. The Fed, the Bank of Japan and the Bank of England will all hold policy meetings, though only the U.K. bank is expected to make a move — and hike for the first time since 2007. And Asian traders face the usual delicate balancing act that comes around when U.S. payrolls round out the week to add to the dangers of positioning before knocking off on Friday evening. We also get Alibaba Group Holding Ltd. and Apple Inc. earnings, while the first iPhone Xs may hit stores.
Futures Mixed
Nikkei 225 futures are signaling gains at the start of Tokyo trading on Monday. Australia's S&P/ASX 200 Index looks set to rebound from its drop on Friday spurred by the High Court's decision to eject the deputy Prime Minister Barnaby Joyce. Asian shares rose last week on supportive earnings reports.
What we've been reading
This is what caught our eye over the last 24 hours.
Before it's here, it's on the Bloomberg Terminal.
LEARN MORE