Akzo Nobel's Merger Plan With Axalta Set to Create PPG Deterrent
By and
Dutch paintmaker unveils plan for combination with U.S. rival

Akzo Nobel is under pressure because PPG could renew bid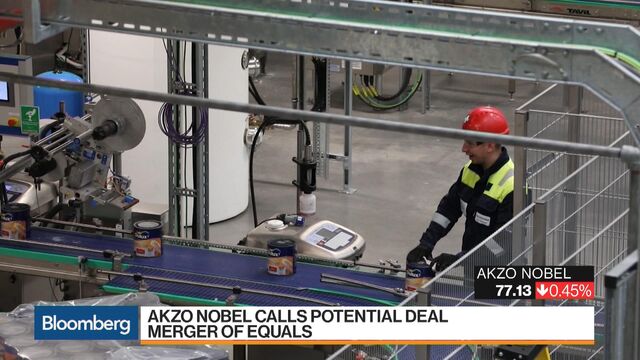 Akzo Nobel NV is exploring a combination with the biggest maker of car coatings, almost doubling the size of its paint business in a bid to create a deterrent should PPG Industries Inc. attempt another takeover as early as December.
The Dutch company said Monday it's in "constructive discussions" regarding a merger of equals with Axalta Coating Systems Ltd. to create a leading global paints and coatings maker. Axalta, which has headquarters in Philadelphia, is the world's largest maker of auto refinish paints, with a market value of $8.1 billion.
The U.S. coatings manufacturer is the "ideal poison pill" that would make Akzo Nobel "undigestable" for PPG, ING analyst Stijn Demeester said in a note, adding that any deal would have to overcome some hurdles in the companies' valuations.
The move to combine with Axalta comes as the clock counts down to Dec. 1, when Akzo Nobel's rival-turned-suitor PPG could make another run for the company under Dutch takeover rules. Akzo Nobel successfully rebuffed an unsolicited $29 billion buyout offer this year, coming under intense shareholder pressure in the process from activist investor Elliott Management Corp., which had pushed for tie up talks.
Akzo Nobel shares rose 0.6 percent to 77.92 euros at 12:16 p.m. in Amsterdam, taking gains to 31 percent this year and giving a market value of 20 billion euros ($23 billion).
Special Dividend

Complicating the tie up talks with Axalta is Akzo Nobel's planned separation of its 5 billion-euro revenue specialty chemicals business, a transaction pledged by the Dutch company as it battled against PPG. The carve out -- which Akzo Nobel said Monday remains on track for April 2018 and is unaffected by the merger discussions -- comes with the return of 1 billion euros in special dividends to be issued in December. Preparations are underway for either a spinoff or outright sale of the entire business, Chief Executive Officer Thierry Vanlancker said this month.
To read more about interest surrounding Akzo Nobel's chemical division, click here
Akzo Nobel is looking to pay close to no premium in any deal with Axalta, a person familiar with the matter said over the weekend. Axalta, of which Warren Buffett's Berkshire Hathaway Inc. is the largest shareholder, soared 17 percent in New York Friday after Reuters first reported the talks.
Axalta has posted two straight quarters of profit declines amid rising costs for paint ingredients. The company, formerly a unit of DuPont, would complement Akzo's product lines, Michael J. Harrison, an analyst at Seaport Global Securities, said in a note. Axalta may sell for $40 a share, based on the 15-times earnings multiple paid by Sherwin-Williams Co. for Valspar Corp. earlier this year, he said.
Antitrust Issues
The deal would combine the third- and fourth-ranked coatings manufacturers in a market that remains relatively fragmented, according to Bernstein analysts including Jeremy Redenius, who said it would make sense.
"We think Akzo shareholders would vote on a merger of equals," they said, adding that there could be some antitrust scrutiny into the effects of a deal in some industrial applications and especially in auto refinishings.
Among its arguments against a takeover by PPG, the Dutch paintmaker said that the deal would be difficult to get passed competition authorities. Axalta is big in automotive coatings and competes with PPG in this area, while Akzo has more focus on interior coatings.
A tie-up between Axalta and Akzo is "logical" given the rapidly consolidating coatings industry, Ghansham Panjabi, an analyst at Robert W. Baird & Co., said in a note about the latest move.
Axalta Revisited
Three years ago, Akzo Nobel was being sounded out as a potential buyer of Axalta, according to people familiar with the matter. Carlyle Group LP, which bought company from DuPont in February 2013, was open to bids alongside a planned initial public offering and investment bankers were pitching a deal to Akzo Nobel, the people said. Axalta was seen as a possible target earlier this year.
As the Dutch company takes steps to separate its chemical division, it's struggling to fulfill pledges to boost profitability. Earlier this month, the company issued a second profit warning under its new Chief Executive Officer Thierry Vanlancker, who was hastily ushered in as CEO in July after his predecessor resigned for health reasons. The surprise departure was followed by that of the company's finance chief, who also left for health reasons.
In attempting a merger of equals deal with Axalta, Akzo might try to keep its headquarters in Amsterdam and research centers spread across the Netherlands. The loss of these sites was deemed by the Dutch government and unions as not in the interest of stakeholders during the battle with PPG.
At the time, Economy Minister Henk Kamp backed the rejection of PPG in favor of a go-it-alone position becuase "Akzo's headquarters, its R&D and its staff in the Netherlands, contributes to the strength of the Dutch economy."
— With assistance by Jack Kaskey, and Ed Hammond
Quotes from this Article
Before it's here, it's on the Bloomberg Terminal.
LEARN MORE