'Jigsaw' Wins Weekend Battle of Horror Films at Box Office
By
Returning 'Tyler Perry's Boo 2!' falls to second position

'Thor: Ragnarok' hits in foreign theaters with $107.6 million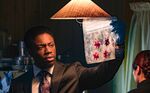 Two Halloween-themed movies from Lions Gate Entertainment Corp. vied for the top spot at the box office this weekend, overcoming reviews that might have scared off fans.
"Jigsaw," from the studio behind "The Hunger Games," opened with sales of $16.6 million in theaters in the U.S. and Canada, placing first, ComScore Inc. said in an email Monday. It was forecast to earn $12.5 million by analysts at BoxOfficePro.com. "Tyler Perry's Boo 2! A Madea Halloween" returned in second place with $10.1 million. The same analysts had pegged it at $11.9 million.

At a time when sequels and remakes rule, it's no surprise neither movie is original or loved by critics. "Jigsaw" is a character from the "Saw" series that was popular more than a decade ago and represents the eighth installment after a seven-year break. The third "Saw" film held the record for the biggest Halloween opening. "Boo 2" is the second Halloween-themed Madea movie from writer-director-star Tyler Perry.
Walt Disney Co.'s "Thor: Ragnarok" opened overseas with an estimated $107.6 million, out pacing the debuts of previous Marvel superhero films "Guardians of the Galaxy 2" and "Dr. Strange," ComScore said. The movie hits U.S. and Canadian theaters on Nov. 3.
"Jigsaw," with 46 percent favorable ratings at Rottentomatoes.com, follows a series of murders bearing the hallmarks of the so-called Jigsaw killer who is believed to have died a decade earlier. The question for law enforcement is whether the killer, played by Tobin Bell, is back from the dead or whether there is a new murderer. The movie cost just $10 million to make, according to Box Office Mojo.

The new Universal Pictures drama "Thank You for Your Service" opened with weekend sales of $3.8 million to place sixth. The film from Comcast Corp.'s movie division scored 77 percent positive reviews for its tale of U.S. soldiers returning from Iraq who struggle to integrate back into their families and civilian lives.
Miles Teller stars. Jason Hall, whose previous writing credits include "American Sniper," is the screenwriter and director. It was expected to place seventh with $4 million in its debut and cost $20 million to produce, according to Box Office Mojo.
Also opening this weekend was "Suburbicon," from Viacom Inc.'s Paramount Pictures, a dark comedy with positive reviews of 27 percent.
Co-written by Oscar winners Joel and Ethan Coen, "Suburbicon" opened in ninth place with sales of $2.8 million. The film is directed by George Clooney and set in the 1950s, featuring Matt Damon and Julianne Moore as a couple in a Pennsylvania town that welcomes its first black family.
The feature is co-produced by Black Bear Pictures, founded by Teddy Schwarzman, the son of private-equity titan Stephen Schwarzman. It was expected to place fourth with $6 million, according to Box Office Mojo.

Before it's here, it's on the Bloomberg Terminal.
LEARN MORE