What Wall Street Is Saying About Amazon and Alphabet Results
By
Google parent, Amazon top 3rd-Qtr revenue, profit estimates

A number of analysts raised price targets on both firms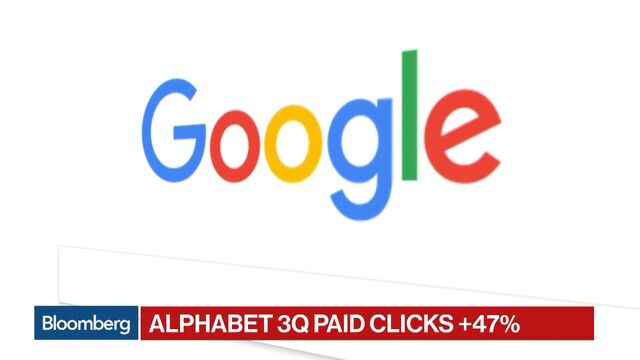 Investors that have been holding on to Amazon.com Inc. and Alphabet Inc. shares are happy this morning.
The tech behemoths beat analysts' sales and profit estimates in the third quarter, sending the stocks surging. Amazon and Google parent company Alphabet both hit all-time highs Friday. 

Given the stock market reaction, it's safe to say analysts on Wall Street who cover the companies are also happy with the results. Here's a wrap, with Google first:
Cowen & Co., John Blackledge
"Google reported strong third-quarter results as both revenue and earnings topped estimates. Ad revenue beat was primarily driven by continued strength within Mobile Search and YouTube. Earnings were also better despite higher traffic acquisition costs, although as a percent of revenue it was in-line with our estimates. We adjusted our 2017-2022 estimates higher and rolled our discounted cash flow models forward to 2018. As a result, price target to $1,150 from $1,075."
Loup Ventures, Gene Munster
"September results show growth rates are running two times higher than what investors had predicted back in 2015. The reason is Google has three properties that 1.5 billion plus people can't live without, including Search, Maps, and Youtube. Going forward, we expect the company to add increasing ease of use, utility, and monetization efforts to these products that will result in 15-20 percent revenue growth for the foreseeable future."
Wells Fargo, Ken Sena
"We view this quarter as further supporting our view that an inflection in compute stands to pave a path for Google into a growing number of industries, where vehicles (e.g., Waymo) remains one of several, and we view Google's leading position here as sufficient enough to offset known overhangs. Moreover, as more of Google's research lead and higher-performance hardware becomes exclusively tied to Google Cloud via its open-source machine learning framework, TensorFlow, we see Google Cloud as obtaining growing lock-in around this opportunity. Our $1,275 target is up from $1,250."
Amazon.com Outlook:
RBC Capital Markets, Mark Mahaney
"Amazon posted very strong third-quarter results. Beat & Raise -– with and without Whole Foods Market. Revenue growth accelerated across Amazon retail, and Amazon Web Services growth & profitability improved. Reiterate outperform. Price target goes to $1,200 from $1,100."
Morgan Stanley, Brian Nowak
"Amazon's third-quarter results showcased its strong top-line momentum as third-quarter revenue was about one percent better than expected and the top end of fourth-quarter revenue guide was about three percent higher than us.... Outperformance was driven by Amazon's highest margin businesses... We are particularly bullish about these high margin revenue streams as we see these businesses enabling Amazon to deliver upward revisions even through record and accelerating investment. In effect, the strength of these businesses enables Amazon to continue deepening its competitive moat and expanding its addressable market."
Cowen & Co., John Blackledge
"Amazon's third-quarter results beat across the board, as revenue and operating income were above high end of guide (x-Whole Foods) given broad-based strength in North America, International and Amazon Web Services. Fourth quarter revenue and operating income guide also better than expected, noteworthy given margin concerns into the print. We raised fourth quarter and 2018-2022 revenue and operating income. Price target to $1,225 vs. $1,125 prior, reiterate Outperform."
Wells Fargo, Ken Sena
"We're reiterating our outperform and raising our price target to $1,430. Over time, we see Amazon leveraging its growing number of consumer touch points (Prime, Alexa, Echo, Kindle, Fire TV, Whole Foods) and physical scale (in retail, logistics, and compute) to apply this more adaptive style of compute for the sake of improved product recommendations, shorter delivery times, more efficient product cycles, enhanced customer support, and even warehouse automation. As a result, in our view, Amazon stands to gain the most, which is why we listed it as our top pick when we launched coverage in September."
— With assistance by Spencer Soper, Mark Bergen, and Stephen Sweeney
Before it's here, it's on the Bloomberg Terminal.
LEARN MORE