Venezuela Bondholders Face Day of Reckoning
By and
Skepticism abounds about whether PDVSA will deliver cash

State-owned oil giant owes $842 million in principal Friday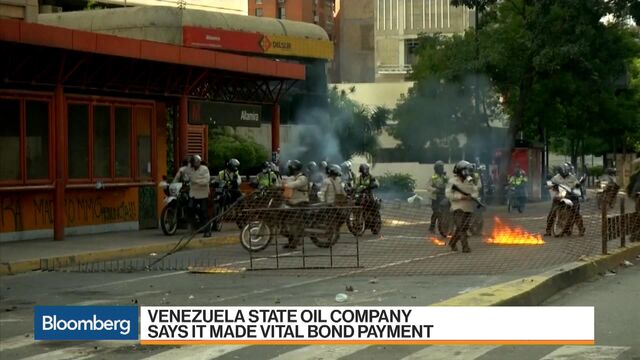 It's a make-or-break day for holders of Venezuelan debt.
State-owned oil company Petroleos de Venezuela SA has $842 million in principal due Friday, and skepticism abounds that it'll be paid on time. The company and the government are already late on more than $500 million of interest they owed investors this month. But unlike those payments, this one comes with no grace period. One day late, and bondholders can cry default.
Reuters, citing people it didn't identify, reported early Friday that the process had begun to transfer the money to investors. The price on the bonds with the upcoming payment -- amortizing notes that don't mature until 2020 -- rose after the report, climbing 0.7 cent to 82 cents on the dollar. The price still reflects plenty of anxiety within the market.
Here are some scenarios for bondholders and what to expect if they come true:
1.) Investors get paid on time.
Hosanna! PDVSA knew how important this payment was and did what it took to get it done on time. Congratulations all around. There will probably be a rally in Venezuelan debt and a drop in prices for contracts that provide insurance against non-payment, known as credit-default swaps. Now folks can focus on the next big due date, less than a week away, when PDVSA has to cough up another $1.1 billion on debt that matures Nov. 2.

2.) There's an accidental default, but it's quickly resolved.
This seems the most likely outcome. PDVSA or the government could put out a statement saying they've sent the money, but it may not arrive in bondholders' accounts right away because of hangups in the payment process. It's not that the oil company doesn't want to pay its debt, it's just that they're going to blame U.S. sanctions for making the process of getting the money where it needs to be so convoluted.
It's entirely possible that bondholders will be more-or-less OK with a delay of a few days. After all, they're still getting a fat yield for holding onto the notes.
"There is some wiggle room before it's a credit event," said Siobhan Morden, who heads Nomura Securities International's Latin America fixed-income strategy.
While it's true that if the payment is even one day late investors could organize themselves to demand immediate repayment of the debt, that's sure to be a drawn-out process with the potential to lock in significant losses. Most bondholders would probably rather avoid it.
If the bonds go unpaid for three business days, holders of $250 million of non-payment insurance could also seek to trigger their credit-default swap contracts.
Click here to see the top holders of Venezuelan debt
3.) There's an accidental default, and it isn't quickly fixed.
Bondholders could try to get organized at any point after the missed payment, and a critical mass of investors holding 25 percent of the debt could seek to accelerate payment on the notes. This scenario would also open up the path for creditors to move to seize the collateral for these securities, a 50.1 percent stake in U.S. refiner Citgo Holding Inc., which is owned by PDVSA.
This would be the nuclear option for investors, and one many would be hesitant to take given expectations that it could set off a lengthy restructuring process.
"Nothing happens quickly when lawyers are involved," said Ray Zucaro, the chief investment officer at Miami-based RVX Asset Management.
Even if investors were to start down the path of acceleration, they could still choose to back down if Venezuela were to find a way to produce the money before all the steps had been completed.
The whole scenario can get out of hand if the default isn't resolved in 30 days. At that point, PDVSA's other bondholders can seek to accelerate their principal, too.
To read how Venezuela got to this point click here
4.) PDVSA says it can't pay the debt.
This would be the most apocalyptic scenario. Presumably, given President Nicolas Maduro's tense relationship with the U.S., officials would lay a lot of blame on the sanctions and "economic sabotage" orchestrated by the "yanquis." It also seems likely Venezuela would stop paying on government debt as well.
Now, to be sure, there are plenty of people out there -- including economists like Ricardo Hausmann -- who have been urging Venezuela to do just this. They say the debt load is unsustainable, and sending interest payments to foreign investors while cutting back on imports of food, medicine and basic goods for the Venezuelan people is basically immoral.
But it would set off all kinds of drama as creditors seek to seize collateral and attach Venezuelan assets held overseas, including Citgo's refineries and possibly even oil cargoes.
Further complicating matters is that U.S. sanctions forbid Venezuela from issuing any new debt, so the typical bond swap that would happen in a restructuring couldn't get done as long as the Maduro regime stays in power.
— With assistance by Katia Porzecanski
Before it's here, it's on the Bloomberg Terminal.
LEARN MORE