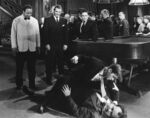 There aren't many European investment banks that like to give the impression they're sitting on too much cash. Deutsche Bank AG and Credit Suisse Group AG raised capital from shareholders earlier this year to bolster their balance sheets, while British rival Barclays Plc has sold its Africa business.
Most are promising to reinvest in their businesses and grow, betting that weak trading will recover and returns will get better. It's a pledge that's ringing hollower over time.

Switzerland's UBS Group AG is a different story. It's one of the few to have structurally overhauled its business since the crisis, effectively ditching balance-sheet-heavy fixed-income trading in favor of less capital-intensive wealth management. It's one of the few to have been a reliable dividend payer. Now, chief executive Sergio Ermotti is holding out the prospect of yet more goodies, telling Bloomberg TV that UBS will "eventually" complement its dividend with a share buyback.
Make no mistake, UBS is exposed—like everyone else—to the problem of rock-bottom interest rates, more regulation and crushed volatility. It, too, had an uninspiring drop in third-quarter trading revenue, dragging down overall performance.
But a buyback would be a further mark of distinction for UBS, given rivals like Deutsche and Barclays have in recent years asked investors to swallow dividend cuts.
That said, it would also pose questions about why a robust UBS prefers to hand cash to investors rather than splurging on top talent and stealing business from competitors. If the Jes Staleys of the world are planning to allocate more capital to their investment banks in the hope of profiting tomorrow, shouldn't Ermotti be out-spending them?
Clearly, UBS is investing in some parts of the business: Third-quarter operating expenses were the highest since the end of last year. But its budgeting seems centered on technology, whether it's rolling out a new wealth-management platform or doing expensive automation work in equities trading. 
The bigger picture is that the UBS investment bank has shrunk, with total assets of 248.3 billion Swiss francs ($248.3 billion) versus 303 billion Swiss francs in early 2015. Plus it has ditched some divisions to focus elsewhere, delivering double-digit returns on attributed equity (although this metric isn't easily compared with rivals). There seems little appetite to reverse course.
None of this means UBS is immune to the industry's challenges. It is having to cut costs to offset revenue pressure from those low interest rates and weak trading volumes. Its capital ratio of 13.7 percent, while above its minimum target of 13, is no longer a world-beater. And if volatility returns quicker than expected, rival investment banks may do better.
But UBS at least knows what its strategy is. By talking up the chances of a buyback, Ermotti is sticking it to his less fortunate peers.
Before it's here, it's on the Bloomberg Terminal.
LEARN MORE