McDonald's Is On the Attack
Five big ideas that made the week interesting, and the stories behind them.
By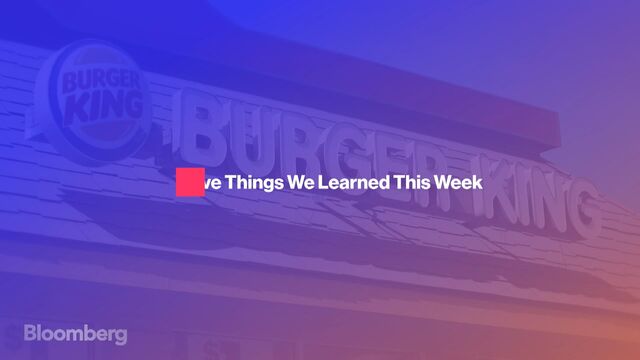 1) The Fast Food Wars Are Heating Up
Remember the days when diners and investors alike fell head over heels for fast-casual restaurants like Chipotle? Now the company barely has any good news to share and just posted profit that fell far short of expectations. On the other side of the fast-food spectrum, things are looking up. McDonald's says it's finally seeing more customers coming through the door. The company has a plan to lure back even more diners: a new value menu with items available for $1, $2 and $3. Competition has been getting fierce among lower-end fast-food brands, which have been discounting hard. That's bad news for the waistline.

2) It's More Like a Work-Death Balance for Americans
The U.S. government keeps moving up the retirement age. But while people are spending more time at their desks, they aren't living any longer. Millions of middle-class Americans can expect to enjoy fewer years of retirement than their parents. Americans in their late 50s already have more serious health problems than people of the same age 10 to 15 years ago, according to the journal Health Affairs. People are losing their cognitive skills too: 11 percent of Americans who retire at 66 had some kind of dementia or other cognitive decline at age 58 to 60.

3) Amazon and Alibaba Could Power This $500 Billion Mega City
Mecca, Madina and "Neom" might soon be the most popular cities in Saudi Arabia. The kingdom is trying to wean itself off oil and build up treasures elsewhere. As part of a plan called "Vision 2030," the government is spending $80 billion to revamp Mecca so it can host more pilgrims for the annual Hajj. Now Crown Prince Mohammed bin Salman has announced plans to build a new city on the Red Sea coast that promises to be like no other in the kingdom. The prince said the city will be powered by clean energy and everything will be automated. "Your medical file will be connected with your home supply, with your car, linked to your family, linked to your other files," he said. Welcome to the city of the future.

4) The World's Most Expensive Place to Own a Vehicle Is Clamping Down
Cities around the world are coming up with different ways to reduce the number of vehicles on the streets, for different reasons. On Monday, London started charging a $13 fee for drivers who want to take their older, more-polluting diesel cars into the capital city. The fee is part of London Mayor Sadiq Khan's crusade to crack down on air pollution. Over in Singapore, officials want to make the most of a precious commodity: land. Car owners in Singapore have to buy expensive permits valid for 10 years, allowing the city to control the number of cars on the road. At a recent auction, one permit sold for more than $30,000. Now it could get more expensive: Singapore won't allow the total number of cars on the road to grow starting in February.

5) This $14.7 Million Home Claims to Be the Safest in America
Bedrooms doors that can withstand an assault from an AK-47. Off-grid power and its own wells. A 15,000-square-foot bunker. A home on the market in Atlanta claims to be the safest—or at least one of the safest—in the country. The owner spent $30 million building the estate over six years, and it still needs about $3 million to $5 million more work.
It's on the market for $14.7 million
, down from its original listing price of $17.5 million. The home has eight bedrooms, 14 bathrooms and three kitchens. But it won't feel like you're in a prison. "The mandate was the best of everything," the broker said. There's also a private theater, a bowling alley and an infinity swimming pool. 

Before it's here, it's on the Bloomberg Terminal.
LEARN MORE