Tencent-Backed Sogou Aims for Up to $585 Million in U.S. IPO
By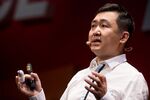 Sogou Inc., the Chinese search engine backed by Tencent Holdings Ltd., aims to raise as much as $585 million in a U.S. initial public offering.
The company, born from the Chinese media company Sohu.com Inc., is marketing 45 million American depositary shares for $11 to $13 apiece, according to a filing Friday with the U.S. Securities and Exchange Commission. Sogou said it intends to use the proceeds for research and development and sales and marketing.
Sogou is the default search engine in Chinese tech giant Tencent's Mobile QQ browser and qq.com, according to the filing. Sogou said it's exploring additional ways to collaborate with Tencent.
Tencent is also Sogou's largest shareholder. It has a 44 percent stake before the offering, while Sohu holds 38 percent.
Tencent Hong Kong-trade shares closed up 0.2 percent to HK$347.80 on Friday. The stock has jumped 67 percent in the past 12 months, compared with a 24 percent gain in the city's benchmark Hang Seng Index.
Sogou's filing follows a rush of cross-border listings that may make October the biggest month of the year for U.S. IPOs, with trans-Pacific share sales at a level not seen since Alibaba Group Holding Ltd.'s record $25 billion IPO in September 2014. Chinese online lender Qudian Inc. and China's Rise Education Cayman Ltd., along with Singapore-based Sea Ltd., the owner of the Garena gaming platform, went public in the past two weeks, selling a combined total of $2.1 billion in new shares.
Beijing-based Sogou had net income of $56 million on total revenue of $660 million in 2016, according to its filing. The company posted net income of almost $100 million on revenue of $592 million the previous year.
JPMorgan Chase & Co., Credit Suisse Group AG, Goldman Sachs Group Inc. and China International Capital Corp. are leading the offering. The company intends to apply to list its shares on the New York Stock Exchange under the symbol SOGO.
— With assistance by Aibing Guo
Before it's here, it's on the Bloomberg Terminal.
LEARN MORE