Low Voter Turnout, Violence Mar Chaotic Kenya Election Rerun
By and
President Kenyatta guaranteed win after main rival withdraws

At least four people killed in protests in Nairobi and Kisumu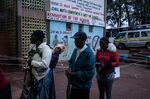 Less than half of registered voters cast ballots in a chaotic rerun of Kenya's annulled presidential elections, in which an opposition boycott guarantees a win for incumbent Uhuru Kenyatta but raises concern over its legitimacy.
The vote was marred by violent clashes between opposition supporters and members of the security forces in the capital, Nairobi, and the west of the country on Thursday that claimed the lives of at least five people. The Independent Electoral & Boundaries Commission postponed the vote in counties that are strongholds of opposition leader Raila Odinga until Saturday.
While the electoral commission said on its Twitter account that turnout was estimated at about 48 percent, the body's chairman, Wafula Chebukati, said in a separate posting Friday that just 6.6 million people, or about a third of the 19.6 million registered voters, cast their ballots. The turnout in the botched Aug. 8 election was 79 percent.
"We cannot keep extending that right to vote after Saturday," Chebukati told reporters in Nairobi late Thursday. "We shall have to make a decision about what will be done."
Opposition Boycott
The Supreme Court last month invalidated Kenyatta's victory in the August poll and ordered a repeat, ruling that the electoral commission failed to adhere to the constitution and proper voting procedures weren't followed. Odinga withdrew from the rerun on Oct. 10 and urged a boycott, saying the commission hadn't addressed the problems that marred the initial vote, including firing staff implicated in rigging and changing its election-management systems.
Prior to the vote, Chebukati said he couldn't guarantee a credible vote, but his efforts to institute reforms were being frustrated by some of his fellow commissioners.
Initial results from 10,870 of the 35,564 polling stations where voting took place showed Kenyatta secured 98 percent of the vote. Odinga, whose name remained on the ballot paper despite his withdrawal, won 1.2 percent.
Three people died from gunshot wounds and at least 53 others were injured in the western city of Kisumu, according to county Governor Anyang Nyong'o. Two others were killed in Nairobi, Citizen TV reported. Police fought running battles with opposition supporters in both regions for most of the day, preventing voters from getting to some stations in slum areas including Mathare and Kibera in the capital.
Injured Protesters
At the Jaramogi Oginga Odinga Teaching & Referral Hospital in Kisumu, scores of bloodied patients laid on benches and beds awaiting medical attention Thursday, as staff transferred more casualties from ambulances into the building. Some people had sustained gunshot injuries, said Kisumu county doctor Charles Ngwallas, who described the situation as "really bad."
"I joined some protesters earlier and after a while we were confronted by the police, so we ran," said Benedict Ochieng, 33, who lay groaning as he waited to be treated for head and leg injuries. "I was unlucky and got cornered and I knew they would shoot me If I tried to run, so I sat on the floor. That is when one of the police came and clobbered me with a club, then another came and kept hitting me."
Charles Ochieng, 21, wore a cast on his right leg that he said had been broken when police entered his home and beat him up.
Religious leaders from the west of the country said the decision by the voters in the region not to participate in the ballot should be respected and that an IEBC request for additional forces to secure a Saturday vote was "tantamount to licensing massacre." Anglican Church of Kenya Bishop David Kobia warned that people in the area had the right to protect themselves from a "killing spree."
"We want to say categorically as church leaders, we don't condone violence and we will never condone it in any other way, but every single human being has a right to self-defense," Kobia told reporters in Kisumu. "A time may come when our people will have to defend themselves in whichever way. I think we have the means just as they have the means, but let us explore the path of peace and reconciliation."
Resistance Movement
Odinga's four-party National Super Alliance campaigned against what it called a "sham election." On the eve of the vote, Odinga said his coalition had transformed itself into a national resistance movement that would embark on a defiance campaign to ensure "fresh, free and fair presidential elections" are held within 90 days.
The political turmoil has unnerved investors in Kenya, a regional hub for companies including General Electric Co. and Toyota Motor Corp. The Nairobi Securities Exchange All Share Index has dropped 7.3 percent since the election outcome was declared void on Sept. 1, while the yield on the government's international bonds due in 2024 has climbed 33 basis points to 6.35 percent.
"The 2017 elections have been a failure and have probably set back the process of democratic consolidation and the trend of increasing social cohesion," Jared Jeffery, an analyst at Paarl, South Africa-based NKC African Economics, said in an emailed note. "It is still uncertain how matters will play out."
Before it's here, it's on the Bloomberg Terminal.
LEARN MORE