business
Juncker Adviser Predicts a Brexit Deal 'Unless Madmen Intervene'
By
Catherine Day: 'Late and messy' Norway-style deal most likely

EU won't give bespoke deal and sees U.K. threats as 'hollow'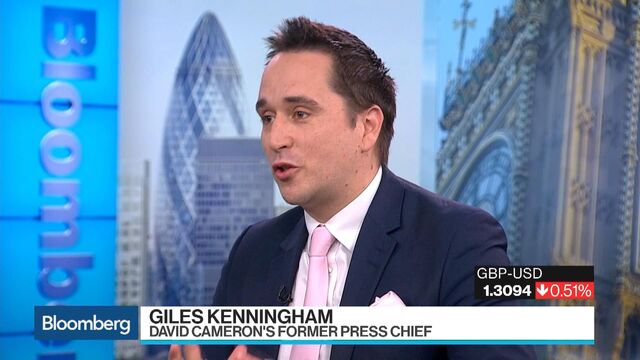 The U.K. and the European Union are heading toward a Norway-style deal "unless the madmen intervene." That's the prediction of Catherine Day, an adviser to European Commission President Jean-Claude Juncker.
"It will be late and messy because that's when you get minds to concentrate," said Day, a former European Commission secretary-general who was appointed as an adviser to Juncker in 2015, in an interview in Dublin on Friday. "But my colleagues in Brussels say the chances of no deal are rising."
Day dashed hopes that the U.K. will be offered a wholly-new bespoke type of arrangement following its departure from the bloc. She said Theresa May's government would be offered a deal that emulates the bloc's trade ties to Norway or Canada with "a little bit more trimmings at the margins."
Norway isn't in the EU, but is part of the European Economic Area, which also encompasses the 28 EU nations. Members of the EEA have access to the lucrative single market for goods and services to which the U.K. sends more than 40 percent of its exports.
Take it or Leave it
Members have to accept the EU principle of free movement of labor, which directly conflicts with what many interpret as a main goal of Brexit, namely to control immigration to the U.K. from the bloc. However EEA members like Norway can make a case to enact "safeguard measures" to suspend free movement for people.
"The EU isn't going to go through the pain of negotiating a whole new model," Day told Bloomberg on the sidelines of a conference. "It's going to say if you want to stay in the single market or customs union, we have this to offer you. If you don't, then it's free trade plus and Canada is our most developed version."
Day said she views U.K. threats of walking away without a deal as "hollow."
"They say 'we'll leave with no deal' and we are supposed to be on our knees," she said. "No. I think the British will be pragmatic in the end."
Before it's here, it's on the Bloomberg Terminal.
LEARN MORE