Investors See Fed Nearing End of Cycle as New Chair Takes Over
By
Rise in rates largely driven by very front-end of yield curve

Move creates market configuration not seen since June 2008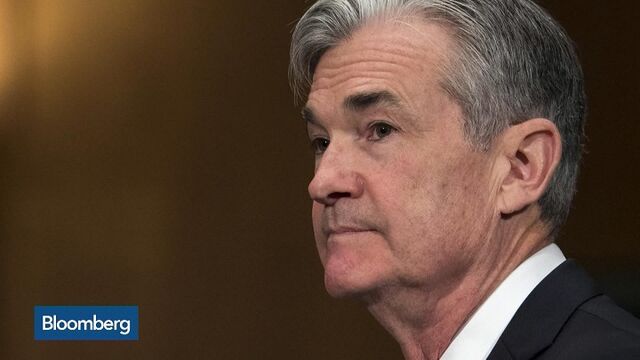 The end is in sight.
Even if President Donald Trump replaces Janet Yellen with a more hawkish leader of the Federal Reserve, investors don't expect much drama from faster interest-rate increases.
With Trump "very, very close" to naming his pick, most of the shift in rate expectations has been confined to the outlook for the next 12 months, while bets on rate hikes beyond that are still seen as a long shot.
Such a view reflects pessimism about the U.S. economy's longer-term prospects for generating higher growth and inflation rates, and has created a situation where the amount of Fed tightening priced into markets for the next 12 months is equal to that priced for the entire four-year period after that, a phenomenon investors haven't seen since June 2008.

"Without any realized inflation, I think the market is having a tough time making this into a curve steepening move," said Gary Pzegeo, a managing director at Atlantic Trust Group in Boston. "Unless you get some sort of longer-term fiscal policy boost into productivity, I don't see that changing."
That also helps to explain why market volatility has remained subdued despite the possibility John Taylor, a Stanford University professor critical of easy Fed policy, will get the job. Trump is also considering Yellen, Fed Governor Jerome Powell, and former Fed Governor Kevin Warsh for the position, and is expected to announce his pick before departing for Asia on Nov. 3.
The central bank's policy-setting Federal Open Market Committee has approved four quarter-point increases in its benchmark rate over the last two years, and is expected to deliver another hike in December, which would lift its target range to 1.25 percent to 1.5 percent. Officials see rates reaching 2.75 percent in the longer run, according to their median forecast in September.
Over the summer, investors became more pessimistic on the prospects for rate increases following a string of weaker-than-expected readings on consumer prices that cast doubt on whether the central bank would be able to lift inflation to its 2 percent goal.
But in the last six weeks, forward rates that reflect the likely path of policy over the next 12 months have surged, partly thanks to current Fed officials' dismissive attitude toward the inflation shortfall, and partly due to the prospects for a Taylor Fed after Trump made clear that he was on the shortlist. Farther out, however, the yield curve hasn't steepened at all.

"Given that the majority of the candidates are viewed as skewed to the hawkish side, combined with a Fed that has been more preemptive in this cycle maybe than historically, clearly that has kept and continues to keep the long end of the curve pretty well anchored in this cycle," said Tim Alt, a portfolio manager at Aviva Investors Americas in Chicago.
Taylor is well known for inventing a formula to guide central bank policy that currently recommends Fed rates should be around 3.75 percent, using his baseline assumptions. Warsh has also criticized the Fed for keeping rates too low for too long, though Trump's failure to mention him by name when discussing the next chair in recent interviews has left a question mark over whether he's still in the running.
Another big difference between now and earlier in the year is greater skepticism that Trump and a Republican-controlled Congress will be able to pass tax reforms and infrastructure investment that would lift the productive capacity of the U.S. economy, which in turn would warrant higher long-term interest rates.
That may be why interest rates have shot up in the front end of the yield curve without spilling over more into longer-dated yields, which is what happened when Trump unexpectedly won the White House in November while his party took control of both chambers of Congress.

"There was a very strong sentiment, based on the outcome of the election, that there was really going to be a paradigm change," said Jim Sarni, managing principal at Payden & Rygel, an investment manager in Los Angeles.
These days, not so much.
Before it's here, it's on the Bloomberg Terminal.
LEARN MORE