Technology
Gold Mining Gets Wired
Barrick and Cisco say their sensor-packed system will make mining safer, cleaner, and more efficient.
By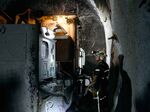 Surrounded by sagebrush and pinyon pine in a remote part of Nevada, the city of Elko appears out of the desert as if from another era, with its strip of 1960s neon-lit motels and casinos. But down the highway a stretch, the scene is unmistakably 21st century.
Seventy-five miles outside town, Barrick Gold Corp. is a year into the gold mining industry's most ambitious experiment to modernize digging. At Barrick's analytics and unified operations center, a long bank of enormous screens and rows of computers analyze data collected from thousands of sensors that record virtually all activity at and around the vast underground Cortez mine. The idea is to use Silicon Valley monitoring technology to mine more gold at cheaper rates while reducing injuries and pollution. "Literally every single aspect of the business should change," says Executive Chairman John Thornton.
In the past year, Barrick's team—with help from Cisco Systems Inc.—has built Cortez's operations center, wired the mine with underground Wi-Fi and sensors, increased its use of remote-control equipment and vehicles, and created an in-house software team called C0dem1ne. Digging costs at the subterranean 1,300-worker Cortez mine have fallen from $190 a ton to $140, and so far the team is under its $50 million budget for 2017.

While that doesn't sound like much for a company with a market value of $18.8 billion, Chief Operating Officer Richard Williams, a former officer with the U.K.'s Special Air Service, has approached the project with military precision. Drawing on his experience in Iraq, where electronic networks allowed commanders to view a whole battlefield in real time, Williams says he's working to integrate hundreds of incremental tech-driven improvements at Barrick's three Nevada mines over the next 24 months, betting that the efficiency gains will add up to more than the sum of their parts. Other mines, he says, will follow.
Barrick's bigger mines will require far more sensors—hundreds of thousands rather than the tens of thousands likely to wind up in Cortez. But Williams says the advantages over traditional walkie-talkies are obvious. Sensors track how many bolts a given worker fires each hour and how many buckets of waste rock his teammate moves. At a micro level, the mine's analysis software tells managers which workers are underperforming and whether that's because of employee error, fatigue (if, say, performance flags over the course of a shift), or a type of rock that's especially tough to handle. At a macro level, all those data feed into executive-level reports on overall production, but they also arm workers with the information to suggest changes that can be made midshift in a matter of hours rather than in days or weeks.
For example, miners might use Wi-Fi-connected mobile devices to flag a certain chemical in cases where it's being depleted faster than expected. While the system would try to figure out why, it would also generate a list of potential consequences and alert suppliers and others to head off those risks. At a mine in Argentina, where Barrick has faced pressure and criticism from local officials and the public for repeatedly spilling cyanide solution, the company is testing real-time monitoring of water quality.
At Cortez, logistics changes such as rerouting trucks and reassigning miners are relayed to work crews midshift through the C0dem1ne team's Short Interval Control app. A small fleet of underground loaders essentially runs on autopilot, continuing to work when humans can't. Another app specifically monitors the maintenance of Cortez's 350-ton haul trucks, each of which requires enough diesel to light a small city block. The trucks moved 125 million tons of rock at Cortez last year, and their upkeep totaled about $60 million, so avoiding the domino effects of a breakdown can save a lot of money.

Beyond traditional predictive maintenance, such as engine-temperature and fluid-level indicators, Barrick's systems route data from each truck to the central computers to assess overall fleet issues well beyond what other software can do, according to Jamie Dwyer, who led development of the predictive-maintenance app. "Because we're building it ourselves, we can merge it all with our other data, right down to who was driving the truck when it broke down," Dwyer says.
Even so, skeptics question whether Barrick's C0dem1ne team can really outperform the professionals. Other mining companies, including Barrick's chief rival, Newmont Mining Corp., have implemented a range of high-tech upgrades but stopped short of in-house coding. "Are you better off spending $100 million for a proven tool that somebody else de-risked or gambling that you'll get it right the first time?" says Mark Mills, who specializes in energy technology analysis as a senior fellow at the Manhattan Institute, a think tank.
Barrick employees say they opted to turn off Caterpillar Inc.'s predictive-maintenance software on their trucks once it was clear their own app performed better. "Some of the vendors we were dealing with told us we were crazy to try this," says David Yazzie, a C0dem1ne project manager. "We're absolutely going to prove them wrong."
BOTTOM LINE -
Barrick says its Cortez mine in Nevada has already cut per-ton digging costs by more than 25 percent by analyzing data from thousands of sensors throughout the mine.
Before it's here, it's on the Bloomberg Terminal.
LEARN MORE